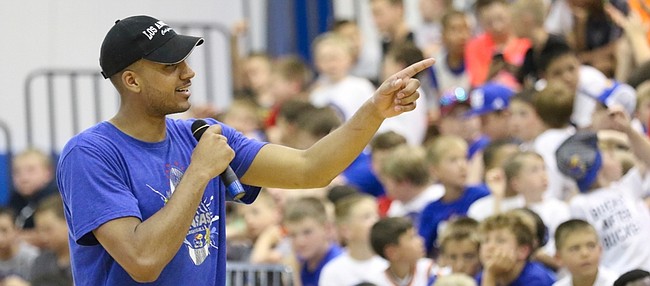 Kansas forward Landen Lucas on Wednesday was nominated for the 2017 Allstate NABC Good Works Team by the National Association of Basketball Coaches.
The senior from Portland, Oregon, was one of the all-time high 278 nominees for the NABC and WBCA Good Works Teams that honor an outstanding group of student-athletes who represent the sport's finest in the areas of community service and leadership among their peers.
Players at all levels of college basketball are recognized for the charitable involvement and altruistic acts that make them standout from others in their sport.
The 278 student-athletes on the list were nominated by their athletic departments and sports information directors and two separate panels will select two 10-member teams, which will be comprised of five men and women Div. I athletes and five more men and women from Div. II, III and the NAIA.
The winners will be revealed in February.
Although his senior season has not been anything near what he wanted or expected it to be thus far, the prevailing thought both from Lucas and his KU coaches and teammates is that the senior forward's early-season struggles are only temporary.
Lucas, who sat out Tuesday's 91-61 victory over Long Beach State, has dealt with foot and oblique injuries throughout KU's first seven games and also has been plagued by foul trouble.
For the season, Lucas is averaging 4.5 point and 4.2 rebounds per game in 17.8 minutes per contest.