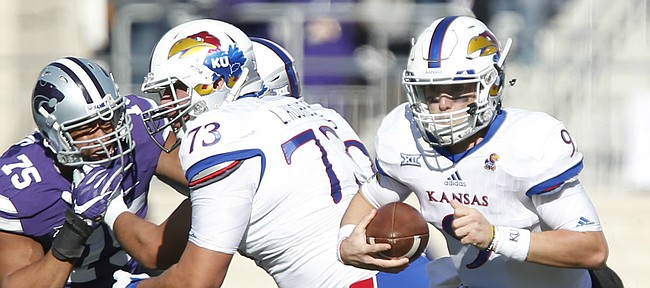 The revolving door for the Kansas football team's quarterback position finally closed over the course of the season's final weeks, thanks to redshirt freshman Carter Stanley.
Though far from perfect, Stanley now enters the offseason as the Jayhawks' incumbent No. 1 quarterback, instead of Montell Cozart or Ryan Willis, both of whom served as backups in the final three games after sharing the job in September and trading the starting role back and forth in October.
Once Stanley proved on the first Saturday of November, during the second half at West Virginia, he could handle the offense, the 6-foot-2 QB from Vero Beach, Fla., helped Kansas (2-10 overall, 1-8 Big 12) produce its best three-week stretch of the season to close 2016.
After KU upset Texas in overtime in its home finale — giving second-year head coach David Beaty his first Big 12 victory — in Stanley's second start, the program experienced its first road defeat of fewer than 27 points this season, in a 34-19 loss at Kansas State.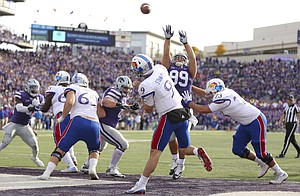 In the first half of the Sunflower Showdown, it seemed Stanley might fare no better than his predecessors on the road. Consecutive second-quarter possessions concluded with K-State picking off Stanley, and KU trailed 20-3.
However, the young starter rebounded to complete 16 of his final 28 passes for 216 yards and two touchdowns.
"He was terrific," Beaty said of Stanley's play following those turnovers, "and that's what you want. He comes over (to the sideline), he owns it. He'll come back and he'll talk just in very general terms about exactly what happened and we can move on."
Sophomore receiver Steven Sims Jr., who led Kansas this season with 72 receptions, 859 yards and seven touchdowns, approached Stanley following his interceptions. Sims told the QB to have a short-term memory on the matter.
"Let it go," Sims said of his message, "and let's go make plays."
Stanley showed the ability to settle down and in the third quarter, with Kansas backed up against the goal line, the QB unleashed a deep ball for LaQuvionte Gonzalez that turned into a 95-yard touchdown — the third-longest passing play in KU history, behind a 97-yard TD from Bill Fenton to Willie Smith, against Texas Tech, in 1965; and a 98-yard scoring connection between QB Kelly Donohoe and receiver Willie Vaughn, versus Colorado, in 1987.
At times, Stanley utilized his feet to try and keep pass plays alive, and at others he took off for positive rushing gains, including a 36-yard carry (a career best) in the fourth quarter.
While the freshman's mental toughness allowed him to pass for a personal-best 302 yards at K-State, he proved physically durable, as well, enduring sacks and hits throughout the game in a hostile environment, while rushing for 52 yards.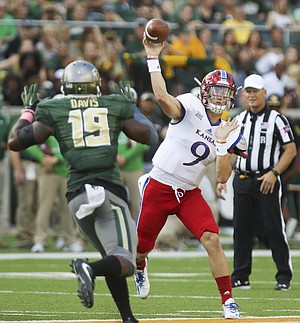 "Carter's very tough," Sims said. "I told him after the game: 'I like the way you fought today. I liked the way you fought to end the game.' And I liked his toughness."
Though listed at just 196 pounds, Stanley often lowered his shoulder to finish off challenging runs. Senior running back Ke'aun Kinner said those sorts of plays can rally a team.
"Hey, that's on him. He doesn't like to slide," Kinner said after, like Sims, characterizing the QB as tough. "He wants you to feel him. I like it."
That trait tends to show up on the sideline, too. Beaty said he and Stanley "get after each other" during in-game discussions.
"But it's because we're both intense guys. It doesn't need to be looked at as a negative," Beaty said. "That's how we like to compete — we like to talk really, really tight and intense with each other."
In his three starts, Stanley completed 71 of 124 passes (57.3 percent) for 693 yards, with three touchdowns and four interceptions. The sophomore-to-be clearly has work to do in the months ahead. He'll see more competition for KU's starting spot once former Washington State QB Peyton Bender arrives as a transfer. Plus, freshman Tyriek Starks, who redshirted this year, could push for consideration, too.
For now at least, the job is Stanley's to lose. His 59.6-percent completion rate, 959 passing yards, six touchdowns and six interceptions this season in limited time will all factor in one way or another on how he approaches his development moving forward. But from the sound of it, Stanley's teammates seem to think the QB has other attributes worth examining.
"He finished strong," Kinner said. "Being thrown in there and being able to make something happen, it just shows how strong-willed he is."