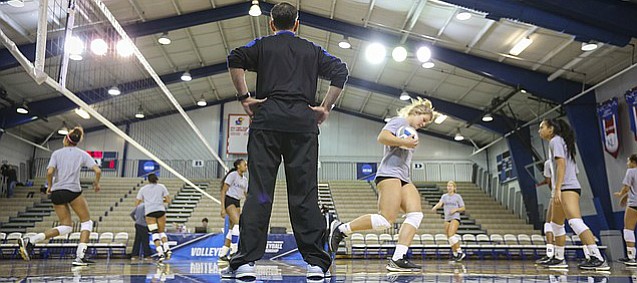 The road to Columbus, site of the NCAA women's volleyball Final Four, starts Thursday for Kansas in a 6:30 p.m., first-round match against Samford at Horejsi Center.
By the time the Jayhawks take the court, they will know which September opponent they will play in a rematch Friday, either Northern Iowa or Creighton, schools that meet 4 p.m. Thursday.
If Kansas and Creighton, the favorites, win their matches, it would bring two of the nation's hottest teams back together. In September, Kansas won a dramatic five-set match against the Bluejays in Omaha.
KU, which made the Final Four in Omaha last season, has won 14 consecutive matches and has a Horejsi winning streak of 16. Creighton has won its last 20 matches, losing just five sets during that streak. In contrast, five of KU's last seven matches have gone five sets.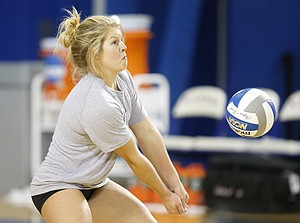 Naturally, both coaches redirected questions about each other back to their first matches, assuming nothing.
Kansas, seeded fifth overall in the tournament, earned the right to play at home by being one of the top 16 seeds. Creighton had a strong case for grabbing one of the seeds, but a 6-6 start to the season against a tough schedule left the Big East school just short.
"I'm pumped," said libero Cassie Wait, a law student. "Horejsi is such a great atmosphere and so intimate. Our fans are right there. Our band is right there. Everything is really awesome. I'm just pumped to get two more games in front of this Jayhawk crowd and to have this family behind us 100 percent."
Wait explained how the band can aid the home team.
"You talk about what noise can do," Wait said. "Volleyball's such a communicative sport, and so even when someone is serving, if you can just get in their head a little bit, make them re-question where it is they are serving, if they accidentally serve it to a player instead of two steps to their right, that makes our job easier."
Wait used the communication between 2015 All-Americans Ainise Havili and Kelsie Payne to illustrate the homecourt advantage.
"If our setter, Ainise, is trying to tell Kelsie a play, on the defense or whatever, and you can't hear it because the gym is so loud, that makes it tough for our opponents who aren't used to that, who aren't prepared for that, and our fans, and the band especially, do such a good of knowing when it's time to be really loud. It's really huge and we take a lot of joy in what they can bring and what they can help us with when we get to play at home."
Kansas won its first Big 12 title by finishing a game ahead of Texas, the fourth overall seed in the NCAA tournament.
The Jayhawks (26-2, 15-1) placed four players on the Big 12's 13-deep first team. Payne was named player of the year, Havili setter of the year, Wait libero of the year and the versatile Madison Rigdon was on the first team as well.
Payne missed more than a week with an ankle sprain and played well enough on it upon her return that she dominated the fifth set in the season finale at Baylor.
"It's good," Payne said Wednesday. "It's still a little fat, but it might be fat forever."
She is not walking in a boot.
"I'm strong against the boot," Payne said. "I don't like it. It's ugly. It's big. I'll walk with tape on my ankle."
Samford can embrace the underdog role the way Kansas did in upsetting No. 1 overall seed USC a year ago to advance to the school's first Final Four.
That alone is enough to make Samford (21-13, 9-7 in the Southern Conference, conference-tournament champion) dangerous. What else does?
"They've got a great coach … a ton of seniors, they've got kids who could play in our conference, physical kids who could play in our conference," Bechard said.
Kansas is one of seven schools to earn the right to serve as host for first-and-second round NCAA Tournament matches in each of the past five seasons, joining Florida, Nebraska, Penn State, Stanford, Texas and Washington.