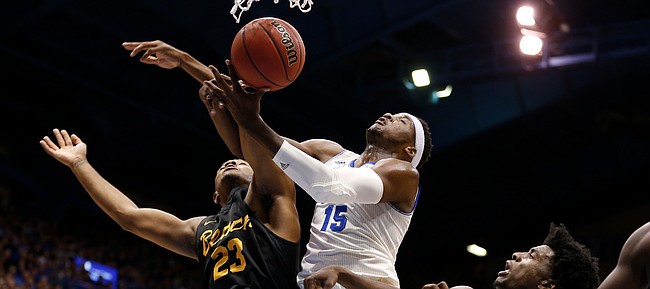 If you just looked at his face, you might not know that Kansas sophomore Carlton Bragg Jr., had been struggling.
Same smile, same celebratory style on the bench, same happy-go-lucky player that Kansas basketball fans fell in love with as a freshman.
But watching his play and reading his stats tells a different story, one that nobody expected and many are trying to decode as the Jayhawks (6-1) prepare for their eighth game of what was supposed to be Bragg's breakout season.
Seven games into the 2016-17 season, Bragg already has lost his starting spot, is playing an average of 16.6 minutes per game — up just 7.7 from his 2015-16 average — and has had as many bad fouls and ill-advised shots as he has good moments on either end.
"It's been challenging," Bragg said following Tuesday's 91-61 victory over Long Beach State. "Just being too aggressive and (not knowing) when to be aggressive, when not to be aggressive. I've gotta adjust to it."
With the answers to the test in his possession, Bragg on Tuesday demonstrated that his understanding made for more than just a good soundbite. After checking into the game for the first time with 15:15 to play in the first half, Bragg went back to the bench at the 13:59 mark after picking up his second foul. That's where he stayed for the rest of the half and, with Lagerald Vick, Udoka Azubuike and even Dwight Coleby giving good minutes in his absence, it seemed as if he might be there for the rest of the night.
But with senior forward Landen Lucas sidelined completely because of an oblique injury, fatigue became a factor and Bragg got a second chance. He made the most of that one, checking in at the 17:36 mark of the second half and playing with much better effort throughout his 10 second-half minutes. His final line read six points, six rebounds on 3-of-7 shooting with one assist, two turnovers and three fouls.
It was far from a flawless performance, but KU coach Bill Self did have a phrase for it.
"I think it was a positive sign," Self said after the game. "I think 11 minutes and six points and six rebounds is a lot better than one minute and two fouls, so I'd say he was definitely much better the second half."
Bragg agreed and said his focus at this point in the season was on trying to emphasize the little things that will help the team and might get him rolling.
"Just gotta get a little momentum going," he said. "Try to get the easiest basket or make the easiest play, you know, just to get my rhythm flowing."
One way to do that, according to Self, is to figure out a way to play within the flow of the game while thinking one or two steps ahead to get an advantage on the opponent.
"He's gotta figure out how to score easy, which he did a couple times," Self said. "And then he took a couple marginal shots that are hard shots, hard for anybody."
Bragg knows his offense will come if he continues to spend time going after loose balls, hitting the boards and doing the little things that can help make Kansas more successful, he admitted.
"I took some bad shots today," Bragg said after the game. "I just wasn't in it. I was just trying to score, trying to do it all instead of just focusing on the main stuff.
"In practice, coach is challenging us each and every day. It's been tough on the bigs, but we're just pushing through it and I think we're gonna get a lot better."
Bragg and the Jayhawks will be back in Allen Fieldhouse at 2:30 p.m. Saturday for a battle with Stanford, which is now coached by former Kansas standout Jerod Haase.