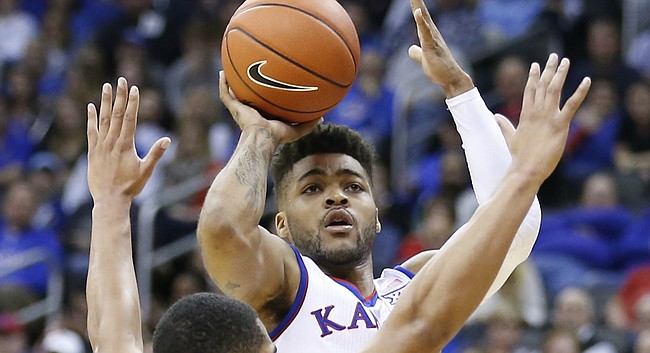 No. 4 Kansas Jayhawks (5-1) vs. Long Beach State Hornets (1-7)
Time: 7 p.m. | Location: Allen Fieldhouse, Lawrence, Kansas
TV: Jayhawk TV/ESPN3 | Radio: IMG Jayhawk Radio Network
Log on to KUsports.com for our live game blog coverage and follow the KUsports.com staff on Twitter: @KUSports @mctait @TomKeeganLJW @bentonasmith & @nightengalejr
Keys for Kansas
1. Low post scoring
With just one player on the Long Beach State roster standing taller than 6-foot-8, this could be a good game for the Jayhawks to get right in the area of low post scoring.
With Landen Lucas and Carlton Bragg struggling so far this season, look for KU coach Bill Self to emphasize giving his big guys some quality touches in the paint — at least temporarily — early in this one to see if they can get their confidence going.
"We've been exposed in some ways," Self said Monday. "I thought that we would be a little bit further along scoring the ball inside than we are and we're not. But that doesn't mean we can't get there."
Add to that duo the presence of 7-foot center Udoka Azubuike, who will be making his second consecutive start, and this could be a big night for KU's big men, provided they're up to the challenge of executing when their numbers are called.
2. Free throw shooting
The 49ers are averaging 25 fouls per game as a team, which means Kansas could spend a good chunk of this game looking to score from the free throw line.
That becomes especially true if the KU big men assert themselves in the paint and force the 49ers to foul to stop them.
Just one Kansas opponent has committed as many as 25 fouls in a single game this season — Indiana hammered the 'Hawks 31 times in the opener — and the five other KU opponents have committed an average 18 fouls per game.
Given Long Beach State's propensity to foul and KU's struggles at the free throw line — .617 shooting in 133 trips vs. .667 in 135 trips for opponents — the Jayhawks' touch at the line could be a factor in this one.
3. Win in transition
KU sophomore Lagerald Vick mentioned transition offense and defense when asked Monday what one of the big keys to beating Long Beach State would be.
But that appears to hold a little more weight on defense than anywhere else. Long Beach State is averaging 17.1 turnovers per game and has shown it can get sped up and out of control from time to time. LBSU has topped 19 turnovers in a game four times already this season, including 23 twice.
Creating turnovers should be a point of emphasis for the Jayhawks tonight. Despite forcing an average of 14.5 turnovers per game by their first six opponents, Kansas could challenge its season-high total of 20 turnovers by UAB and likely will be emphasizing turning the 49ers over after forcing just eight UNC Asheville give-aways last Friday night.
Mega Matchup
KU freshman Josh Jackson vs. LBSU junior Gabe Levin
Levin enters tonight's game as the 49ers' leading scorer and rebounder, having posted three double-doubles in the past eight games. Two of those came in back-to-back outings against perennial powers North Carolina and Louisville and he figures to be a handful for whichever Jayhawk guards him tonight. Whether you're talking the more traditional, two-big-man lineup or KU's four-guard look, that figures to be the 6-8, 210-pound Jackson, who has the ability to guard on the perimeter and rebound in the paint. Whether Levin matches up defensively with Jackson or not remains to be seen, but, if he does, it seems like that might favor the Jayhawks.
Jayhawk Pulse
After a breakneck pace to start the 2016-17 season, the Jayhawks finally got a few days of rest following their easy victory over UNC Asheville last Friday night.
After taking Saturday off and returning to a normal practice schedule Sunday and Monday, Self said he thought the Jayhawks had recovered from the treacherous early-season travel schedule.
"I think it has calmed down," he said. "I think guys are certainly back in a routine and I think we are as coaches.... I think we're back on schedule."
That should only continue through the rest of the year, as the Jayhawks do not have more than two games a week through the start of the Big 12 schedule.
That will allow Kansas to do more practicing, work on areas that are deemed concerns and spend more time settling into exactly who and what this team is going to be.
"I think we're gaining toward developing an identity," Self said. "But I don't think that's happened yet. I probably thought we'd be further along on that point. What I've learned is we're a long ways from being where we need to be."
Probable Starters
No. 4 Kansas
G – Frank Mason III, 5-11, 190, Sr.
G – Devonte' Graham, 6-2, 185, Jr.
G – Josh Jackson, 6-8, 207, Fr.
G – Lagerald Vick, 6-5, 175, Soph.
C – Udoka Azubuike, 7-0, 280, Fr.
Long Beach State
G – Justin Bibbins 5-8, 150, Jr.
G – Noah Blackwell, 6-2, 190, Soph.
G – Jordan Griffin, 6-3, 165, Fr.
F – Gabe Levin, 6-7, 215, Jr.
F – Temidayo Yussuf, 6-7, 255, Jr.