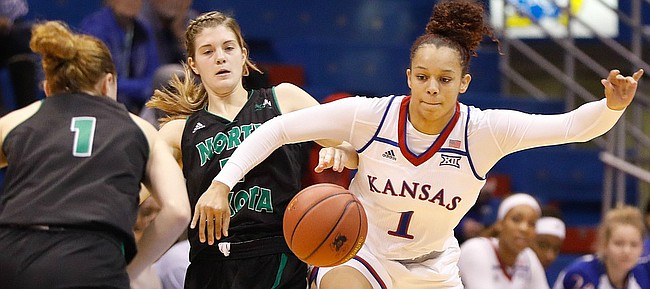 Kansas women's basketball coach Brandon Schneider knew he had something in his back pocket when the situation presented itself.
At last, trailing by eight points with less than five minutes to go in regulation Sunday, Schneider chose to employ his full-court pressure defense. And the result worked to perfection.
Kansas erased a double-digit fourth quarter deficit at Allen Fieldhouse, overcoming North Dakota in overtime, 76-71. It marked the second straight overtime win for the Jayhawks, who topped Oral Roberts, 64-56, in double-overtime Wednesday.
"Just gave us more pressure defensively," Schneider said. "One you are down, so it made the decision pretty easy. But I thought once we got a couple deflections and forced a turnover or two, it really energized us and we kind of got out of a lull."
But now Schneider, who had previously voiced his concern about playing full court defensively for lengthy stretches, may be more prone to use this style of play in the near future. At the very least he may consider it after having such success Sunday.
The Jayhawks (3-2) created a trio of turnovers and held the Fighting Hawks (1-4) to just two points in the final 4:54 of regulation.
"We practiced (handling the full-court press) believe it or not," North Dakota coach Travis Brewster said. "It comes down to two things: meeting your pass and setting up your pass. They did a good job with the pressure. At the same time, I thought we could have done a better job executing."
Though the defense needed to set the stage for the comeback, the offense was the one to deliver the biggest blow. Kansas outscored North Dakota, 21-8, in the final 10 minutes of action — mostly because of exceptional contributions from the reserves.
Senior forward Caelynn Manning-Allen dropped 14 points — including 10 in the second half and overtime — on 5-of-8 shooting in 26 minutes of action. She hauled in seven rebounds in her third game since being demoted from the starting lineup.
"I just need to do whatever I can to produce for my team," Manning-Allen said. "Whether or not I start or come off the bench hasn't really been a focal point. But just focusing on being disciplined and doing everything I can energy wise."
Senior guard Timeka O'Neal recorded 12 points on 4-of-7 shooting, all from beyond the arc. She made four shots from downtown in her four previous games combined.
O'Neal was a part of the athletic lineup that went to the floor as a result of the pressure defense and she knocked down some of the biggest shots of the afternoon. O'Neal's trey from the top of the key knotted it up at 65-all with 27 seconds left in regulation.
She later hit another long range shot from the baseline after the Fighting Hawks opened the extra period on a 4-0 run. Kansas would soon take the lead and never look back.
"She stepped up," said redshirt junior guard Jessica Washington, who had a team-high 19 points in her first game back from her one-game suspension. "It's fun watching her step up and hit threes and seeing the bench go crazy. That's what we are about and that's the culture we are trying to build here."
The strong finish was necessary after the Jayhawks squandered their lead in the second quarter.
Kansas came out firing in the first quarter, shooting 67 percent from the floor, en route to a 23-point first period. It tied the highest point total by KU under Schneider, and was 10 more than the highest mark this year.
But in the second frame, the Fighting Hawks stormed back and went on a 13-0 run in the final four minutes to reclaim the lead. They would maintain control of the game until the final minutes of regulation when Schneider pulled out a different defensive system from under his sleeve.
"I do think we have some lineups where we can do that," Schneider said. "We have practiced it a little bit. Unfortunately, we are in one of those stretches where we haven't had much practice time. We get some more practice time, we have some lineups that I think can stir it up."
Kansas will travel to Creighton at 7 p.m. Wednesday.