Thursday, November 24, 2016
At no point Saturday in Manhattan will Dorance Armstrong Jr. and Jordan Willis — arguably the two best defensive ends in the Big 12 — take the field at the same time and line up against each other to go one-on-one in the Sunflower Showdown.
But Armstrong, Kansas football's star end, knows the name and game of Kansas State's Willis as well as some of the offensive linemen he figures out ways to rush past in pursuit of quarterbacks.
His unofficial introduction came earlier this season, when family and friends began sharing social media posts with the KU sophomore about Armstrong's statistical production. As his name hovered near the top of the Big 12's sack and tackles for loss leaders, Willis' name was always right there with his.
"Stat-wise, I feel like I look it up every week to see who's on top, me or him," Armstrong said, "'cause I know we've been goin' back and forth for a good while."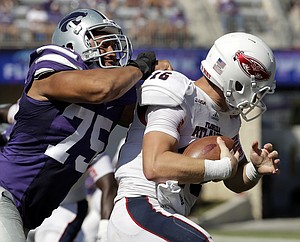 Armstrong took on a greater appreciation for the Wildcats' senior pass rusher when Willis kept popping up during KU's video preparation.
"Every time we watch film on a team that we're playin' I feel like they've already played 'em, so I kind of watch him and see what he's doing against a tackle or whatever," Armstrong said.
Entering this weekend's rivalry game at Bill Snyder Family Stadium (11 a.m. kickoff, FOX Sports 1), the 6-foot-5, 258-pound Willis has 9.0 sacks and 13.5 tackles for loss. Both numbers rank second in the conference to Armstrong — 10.0 sacks and 17.0 tackles for loss.
Kansas head coach David Beaty characterized Willis and Armstrong as different types of defensive ends but thinks it should be fun for college football fans to watch them both.
"Man, I tell you what, that's going to be a display of two of the better players in the league, in the entire league on any side of the ball. I mean, those two guys are really good players," Beaty said. "I'll tell you what, I love watching Willis until I have to play him. But he is a good football player. He is really a good football player. One of the best guys I've seen with his hands in my time coaching. He's really, really good."
A 6-foot-4, 246-pound lineman from Houston, Armstrong's unique combination of athleticism and size has allowed Kansas (2-9 overall, 1-7 Big 12) to utilize him a number of ways within coordinator Clint Bowen's scheme. That's why, Bowen shared, Armstrong racked up 11 total tackles — a number generally associated with linebackers or safeties — in KU's victory over Texas.
At times this past week, Armstrong basically played as a linebacker, starting from a standing position in the middle of the field and/or dropping into coverage. Bowen said opposing teams are increasingly aware of Armstrong's potential impact.
"Centers are pointing him out and sliding protection to him and all that stuff," Bowen said. "To be able to move him helps us make it a little bit more difficult on them to find him."
While Willis and K-State (6-4, 4-3) still have a Dec. 3 date at TCU remaining on the regular-season schedule, this is the finale for the Jayhawks, and Armstrong's last chance to showcase himself as a Big 12 Defensive Player of the Year candidate. Bowen said the standout sophomore's team-first approach has put him in position to be considered one of the conference's top talents.
"Dorance is 100 percent tied in to just doing his job and doing what we ask him to do. And that's really what makes him special," Bowen said. "It's not really about him, it's about him doing his little part on each defensive call and he takes great pride in doing that."
This week, seeing Willis compete on the same field against his KU teammates could provide Armstrong with even more incentive to cap an exceptional season with one final exclamation point.
"This is the last game," Armstrong said of his statistical competition with the Wildcats' top end, "so we're gonna see who comes out on top."