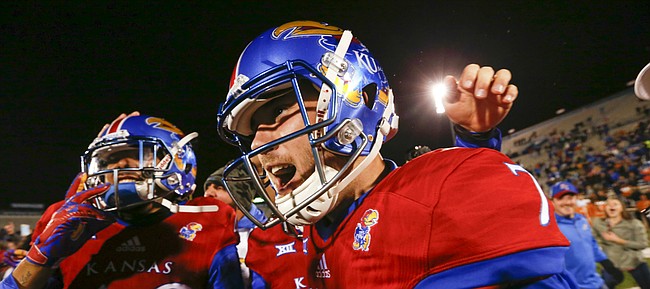 The Kansas football team's first conference victory in just more than two years certainly didn't go unnoticed around the rest of the Big 12.
Following KU's galvanizing overtime victory over Texas, a pair of Jayhawks received the league's top weekly honors Monday.
Matthew Wyman, the senior kicker mobbed by teammates after his field goal sealed the upset win, fittingly earned the distinction of Special Teams Player of the Week, while sophomore defensive end Dorance Armstrong Jr. shared Defensive Player of the Week with Iowa State junior safety Kamari Cotton-Moya.
Wyman, a 6-foot-1 senior from Bloomfield Hills, Mich., went 3-for-3 on his field-goal tries against UT. The senior kicker's 36-yarder in the second quarter gave KU a 10-7 halftime lead. And though Wyman didn't attempt another field goal — or even an extra point — until the game was on the line, he nailed another 36-yarder with 0:51 left to force overtime and drilled the game-winner from 25 yards out in OT.
"So many great things in that game that stick out to me as you come out as a winner," KU head coach David Beaty said Saturday night. "Matthew Wyman being able to come back from that TCU game (when Wyman missed three fourth-quarter field goals, from 37, 41 and 54 yards), and without him, we don't win this game. And I think that speaks to the locker room in there and how they handled him after that game."
Armstrong dominated throughout KU's victory — the program's first in the Big 12 since Iowa State visited Lawrence on Nov. 8, 2014. The 6-foot-4, 246-pound defensive lineman racked up 11 total tackles, two sacks, three tackles for loss, a forced fumble and a fumble recovery.
Now the Big 12 leader in both sacks (10.0) and tackles for loss (17.0), Armstrong, a Houston native, said the stage was set for him to prove himself against the Longhorns.
"Myself and the whole defense, we feel like we can beat any team in the Big 12," Armstrong said Saturday night, "if we just finish the game like we did today."
Both Wyman and Armstrong won the Big 12 award for the first time in their careers. Kansas had two players honored by the Big 12 in the same week for the first time since Todd Reesing and Darrell Stuckey picked up weekly awards on Dec. 1, 2008, following a win over Missouri.
Junior punter Cole Moos, named the top specialist on Oct. 17, is the only other Jayhawk to earn a conference player of the week award this season.
KU (2-9 overall, 1-7 Big 12) completes its season on the road this weekend, when the Jayhawks take on rival Kansas State (6-4, 4-3), in Manhattan.
Another distinction
The Football Writers Association of America on Monday named KU football its National Team of the Week, following the Jayhawks' 24-21 overtime win against Texas.
Kansas won the award on two previous occasions: following a win over Missouri on Nov. 29, 2008, and after a road win at Texas A & M, on Oct. 27, 2007.
The FWAA has picked a top weekly team since 2002.