Saturday, November 19, 2016
Heading into overtime Saturday, Kansas senior kicker Matthew Wyman had made 26 field goals in his four-year career.
But none were as important as his game-winning, 25-yard field goal in overtime, lifting the Jayhawks to a 24-21 victory over Texas at Memorial Stadium.
Following a false start penalty that pushed the ball back five yards, Wyman kept his head down on his steps up to the kick and pushed the ball with his right foot through the uprights.
Afterward, it was madness.
Wyman jumped in the air and ran toward his team's sideline where he was mobbed by his teammates. Fans rushed the field to take pictures with him and some lifted him on their shoulders. He estimated he had 30 family members at the game for Senior Day and it was chaos trying to find them all.
Photo Gallery
Kansas football v. Texas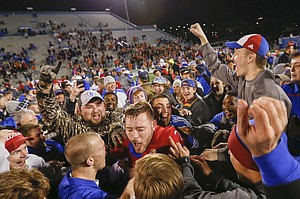 View a gallery of images from the Jayhawks' matchup against the Longhorns on Saturday at Memorial Stadium.
Plus, there was a little bit of redemption. Wyman missed three kicks, including a 54-yard potential game-winner, against TCU last month in a one-point loss. His teammates consoled him afterward and Wyman never forgot it.
"My teammates have been great," said Wyman, who is kicking with a cast over his broken left wrist. "They are not a bunch of guys who got down on me. They stuck with me and kept building me up. I praise them for that."
When Wyman prepares for field goal, he tries to keep his mind free. Teammates might come up to him to wish him luck or hype him up, but he doesn't say much in return.
He sent the game into overtime with a 36-yard field goal with seven seconds remaining in regulation. He added another 36-yarder in the second quarter.
"Just hit it true," Wyman said of his thoughts before kicks. "Keep my head down. I can only control so much. Once the ball leaves my foot, it's out of my control."
Wyman made a game-winning field goal at the end of regulation during his freshman year against Louisiana Tech.
But this was the kick that ended a 19-game Big 12 losing streak. This was the kick that helped KU beat Texas for the first time since 1938.
This was the kick that the Jayhawks hope turns the program around.
"I know the TCU field goal is probably still haunting him and to come win the game for us today, we were cheering his name in the locker room when we first came in, 'Wy-man, Wy-man,'" KU sophomore receiver Steven Sims said. "I'm glad he got to punch it in for us."
https://www.youtube.com/watch?v=e3EORGVmtmg&t=16s
https://www.youtube.com/watch?v=fFeoDRG5M3g&t=1s
— See what people were saying about the game during KUsports.com's live coverage.
---
More news and notes from Kansas vs. Texas
---