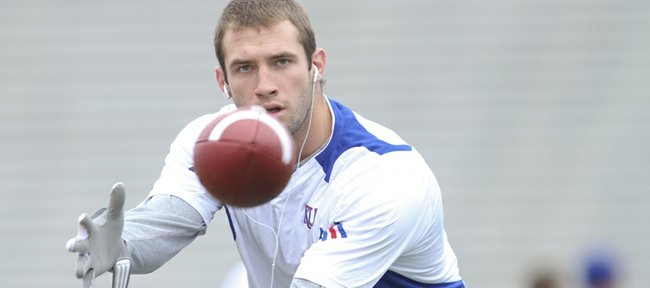 Several Kansas football players in recent years had the misfortune of learning new rules and terminology over and over again at a program that has changed coaches seemingly at as fast a rate as Lady Gaga changes fashion styles.
Not all of them have figured out a way to turn that into a positive, but Kale Pick, the first of 10 quarterbacks to start a game for Kansas in the post-Todd Reesing era, said he has.
Pick, named head football coach at Fort Scott Community College earlier this week, discussed his new challenge in a telephone conversation Friday afternoon from his office.
"As a player, I hated it," Pick said of the coaching turnover, shortly before hitting the road for Derby to watch the Free State-Derby state playoff game. "You had to start from scratch every year and earn your new coach's respect. I played for five position coaches in five years and three different head coaches. But I think it definitely turned me into a better coach."
Pick, 27, spent this past season as Fort Scott's offensive coordinator and was promoted to head coach Wednesday night.
Pick backed up Reesing as a redshirt freshman playing for coach Mark Mangino in 2009, started KU's 2010 season-opener at quarterback under first-year head coach Turner Gill, was replaced after three quarters, and never earned another start there. Pick switched to receiver for his final two seasons and in 2012, under first-year KU coach Charlie Weis, led the Jayhawks in receptions (26) and receiving yards (390).
Pick said he always knew he wanted to become a football coach and held onto every playbook, offseason workout plan, player manual, etc., from every stop along the way.
"I kept notes on what I liked and didn't like," Pick said.
After his playing career at KU, he worked as a graduate assistant at his alma mater in 2013 and at Texas A&M; in 2014 and 2015. It was in College Station that Pick worked for Aggies offensive coordinator Jake Spavital, the man after whom he models his offense. Pick said he talks or texts with Spavital, now offensive coordinator for Sonny Dykes at California, once a week.
Pick is in the midst of rounding out his coaching staff, which already includes former Kansas defensive tackle Richard Johnson, who is Pick's recruiting coordinator and defensive line coach.
"Recruiting-wise, I think my biggest asset is my KU background," Pick said. "I'm trying to win Kansas City in this in-state recruiting battle and the two Lawrence high schools are big-time, second to none in the state."
Pick also has a big name in his native Dodge City, having starred there in high school.