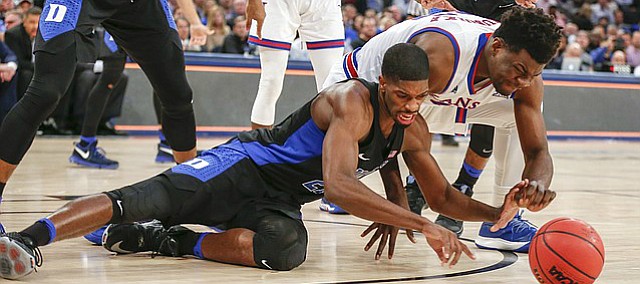 NEW YORK CITY — It doesn't take an entire village to beat Duke, the nation's top-ranked college basketball team. But it does take a bench, and Kansas certainly had one of those Tuesday night in Madison Square Garden, the self-anointed world's greatest arena.
On a night in which more whistles echoed throughout the building in a 40-minute basketball game at the Garden than during a three-hour Bruce Springsteen concert, reserves needed to step into the spotlight and help Kansas overcome a dreadful first-half performance. The whistles, by the way weren't in response to great play, rather were sounded by referees overzealously putting greater emphasis on existing rules regarding fouls in the post.
Led by Lagerald Vick, a sophomore limited to garbage time a year ago, and 17-year-old freshman Udoka Azubuike, the Kansas bench delivered in a big way to help the Jayhawks build a 12-point lead midway through the second half.
Photo Gallery
Kansas Basketball v. Duke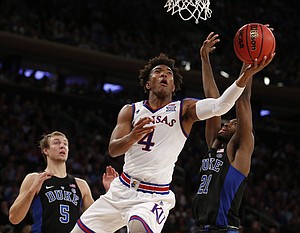 View a gallery of images from the Jayhawks' Tuesday night game against Duke in the Champions Classic at Madison Square Garden.
Not even Fearless Frank Mason can do it all, except at the end of games, that is, so the efforts of the reserves made a huge difference in Kansas evening its record and avoiding what would have been its first 0-2 start since 1972, or one year after Ali-Frazier I, the most famous of many huge events in the Garden.
Sure, the game predictably was won by Mason, who blends the freakish athleticism Muhammad Ali brought to the ring with the lead-with-the-chin style and height challenges of Smokin' Joe Frazier, but far less experienced players deserve to take a bow, as well.
Looking so comfortable for a player who as a freshman rode the bench, Vick drove to the hoop and attacked the glass with a nice blend of hunger and poise.
On a night he missed all four of his three-point shots, Vick contributed nine points and four rebounds in 31 minutes. Josh Jackson fouled out in 18 minutes, which made it imperative that Vick be up to the moment and the long, slender, ultra-quick sophomore from Memphis answered the call.
When he took his turn guarding Duke star Grayson Allen, Vick didn't fare as well as teammates Mason, Jackson and Devonté Graham did, but just the fact that Kansas coach Bill Self trusted him at all with that assignment says plenty about what he thinks of the player he routinely calls KU's most improved from a year ago.
Vick looked smooth, not a word that will fit KU's other key bench contributor, the 7-foot, 270-pound Azubuike, any time soon.
At times, Azubuike had the ball in his hands in the right place at the right time, but not at the right time in his basketball development. Once, he wasn't quite sure what to do with it, so he bounced it off the floor. He looked around and still wasn't sure what to do with it, so he bounced it again. Double-dribble.
Later in the game, Azubuike received an over-the-top pass on a play guards Mason and Graham executed so well all night, and missed a two-footer by more than two feet.
Azubuike's stamina isn't where it needs to be yet, but his effort can't be questioned. He huffed and puffed his way to a team-high 12 rebounds in just 15 minutes of action, leading the team with four offensive boards and eight on the defensive end. He also mixed in a steal, a blocked shot and six points.
"I was really encouraged," Self said of Azubuike's play. "He's as raw as there is. He actually has a good touch shooting the ball, little jump-hooks around the basket. He didn't have a chance to show that tonight."
He did have a chance to show what he can do to camouflage KU's rebounding deficiencies.
"We're not a great rebounding team by any stretch, and he gets 12 in 15 minutes and our other bigs get seven in 30," Self said. "As he gets more comfortable, I certainly see his minutes going up. He's going to be as important as anybody on our team in how good we can be."
Mason called Azubuike's role in the come-from-behind victory, "very important. He did what we need him to do. He rebounded offensively and defensively and we need that from him moving forward."
Vick did what was needed as well. His 31 minutes were more than one-third of his season total (91) from a year ago.
The bench enabled Kansas to win a game without its prettiest effort.
---
— See what people were saying about KU's matchup against Duke during KUsports.com's live coverage.
---
More news and notes from the win against Duke
---