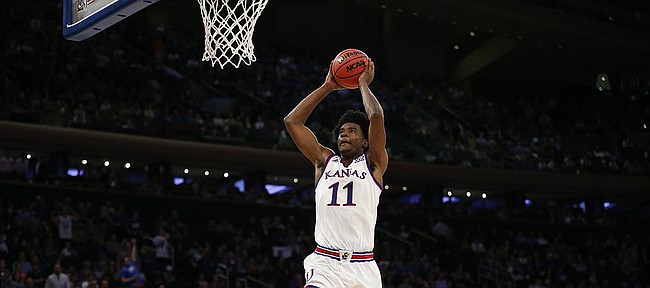 NEW YORK CITY — Foul trouble again tried to steal Kansas freshman Josh Jackson from the spotlight on Tuesday night.
But after a slow and uncertain start to the Champions Classic clash with No. 1 Duke at Madison Square Garden, Jackson refused to allow that to happen.
During a second-half stretch that included Kansas taking control of the game and Jackson emerging as the player everyone said he was, the 6-foot-8 freshman from Detroit scored nine of his 15 points in silky smooth fashion to push Kansas to a huge, 77-75, bounce-back victory over the Blue Devils.
The victory was the second at the Champions Classic for Kansas — both against Duke — but it could go down as something much bigger than that. It could become the night that Josh Jackson became a college basketball player. And what better place to do it than the Big Apple, with NBA stars John Wall, Carmelo Anthony and Phil Jackson sitting courtside.
Photo Gallery
Kansas Basketball v. Duke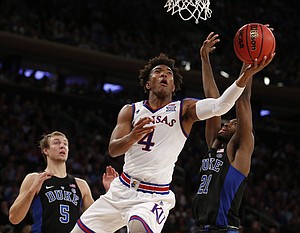 View a gallery of images from the Jayhawks' Tuesday night game against Duke in the Champions Classic at Madison Square Garden.
"Super proud of him," junior Devonte' Graham said of Jackson. "He was frustrated all night with fouls that were called on him, but he came in and sparked us with I don't know how many points in a row. He did a great job tonight."
Added KU coach Bill Self: "I thought Josh was great. He was by far the best player in the game there to start the second half."
As he tends to be, Frank Mason (21 points, including the game-winner) was the Jayhawks' closer. And Graham (13 points on 6-of-12 shooting in 40 minutes) did what you'd expect the junior wing man to do. But it was the contribution from Jackson that gave Kansas (1-1) control. And he knew it.
After burying a jumper from the top of the key with 12 minutes to play, the this-game's-too-easy smirk on his face said it all.
Jackson's night — 7-of-9 from the floor, two rebounds, a steal and an assist in 18 minutes — ended with 5:08 to play after he was whistled for his fifth foul while sliding his feet on defense. Whether the contact warranted a call was up for debate, but Jackson, clearly feeling that this was, or at least could have been, his night, slammed his hand onto the bench as he took his seat.
Both KU coach Bill Self and assistant Kurtis Townsend went over to talk to him after the display of emotion, with the message focusing on the silly technical early in the game putting him in foul trouble in the first place.
"For a young kid, playing Indiana on that stage and Duke on this stage is probably not the best two best teams for somebody with the expectations and the hype around Josh because you want to go do it yourself as opposed to leaning on the others to do it," Self said. "I wish we had a game where he could get the rust off and go through this rather than high-profile games, but he'll do that. He wants to win."
Good ending, long trip
Asked what he thought Tuesday's bounce-back victory could do for his team, Self pointed to the confidence it might bring and also acknowledged that he was OK with the Hawaii-to-New-York-in-four-days portion of the schedule now being behind him and the Jayhawks having come out with a split.
"This has been a pretty long trip," Self said. "If you're gonna travel 11,000 miles you might as well win at least one game."
Self continued, praising his team for closing a tough game after Duke stormed back: "To see how they fought and kind of played out of an adverse situation, it probably doesn't mean much in the big picture, but I do think it gives our guys some momentum and some confidence going forward."
Wooden Watch
The early-season accolades keep rolling in for the Jayhawks, who landed three players on the John R. Wooden Award Preseason Top 50, tying for the most of any school in the country.
Senior Frank Mason III, junior Devonte' Graham and freshman Josh Jackson also earned a spot on the Naismith Trophy's preseason watch list earlier this month. Jackson is one of seven freshmen on the list selected by a preseason poll of national college basketball experts.
KU-Stanford create series
According to college basketball analyst Jon Rothstein, Kansas and Stanford have agreed to a four-year series on the hardwood.
The Jayhawks and Cardinal will meet this year in Lawrence — 2:30 p.m. Dec. 3 at Allen Fieldhouse — and, according to the report, play once more at Allen Fieldhouse (in 2018-19) and twice in California during the following three seasons, once in Sacramento next season and again in Palo Alto during the 2019-20 season.
KU's last meeting with Stanford came in the second round of the 2014 NCAA Tournament, where Andrew Wiggins and company were defeated 60-57 in St. Louis. Former KU great Jerod Haase is the new head coach at Stanford and that, no doubt, had something to do with the creation of this series.
KU leads the all-time series with Stanford, 8-3, but has lost the last two match-ups.
This and that...
Tuesday's victory pushed Kansas to 2-2 under Self at Madison Square Garden and 2-4 in the Champions Classic, both victories coming against Duke.... Duke's lead in the head-to-head series with Kansas is now down to 7-4.... With the win, the Jayhawks avoided their first 0-2 start since 1972-73 season and began Bill Self's 14th season at Kansas with a 1-1 record, marking the fifth time in the past six seasons that KU has opened the season at 1-1.... KU now is 8-16 all-time against teams ranked No. 1 in the Associated Press poll and 72-39 against ranked teams in the Bill Self era.... With a 217-43 record since 2010, Kansas is the winningest program, by percentage (83.4) this decade. Kentucky (82.3), which rocked Michigan State in Game 1 of the Champions Classic Tuesday, and Duke (81.4) rank second and third in that time.
---
— See what people were saying about KU's matchup against Duke during KUsports.com's live coverage.
---
More news and notes from the win against Duke
---