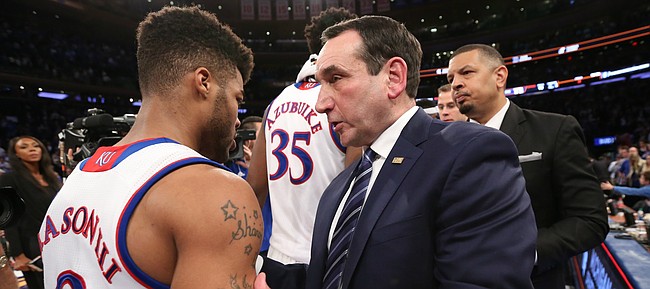 Duke basketball coach Mike Krzyzewski had nothing but good things to say Tuesday night about the seventh-ranked Kansas squad that knocked his Blue Devils from the ranks of college basketball's unbeaten.
"They're going to be one of the best teams in the country throughout the whole year," Krzyzewski said after KU's 77-75 victory, decided by a game winner from Frank Mason with 1.8 seconds to play. "It was a heck of a game. They're really good."
Duke (2-1) is, as well, of course. And even though they won't be the No. 1 ranked team in the polls next Monday, Coach K is hardly worried about where his team is headed from here. In fact, to get the result they got against one of college basketball's top teams on this stage without the talented trio of freshmen big men who sat out because of injuries — in matching, dapper suits, no less — only made Krzyzewski believe stronger in what his team could accomplish this season.
Photo Gallery
Kansas Basketball v. Duke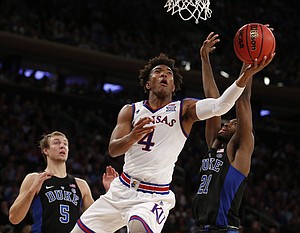 View a gallery of images from the Jayhawks' Tuesday night game against Duke in the Champions Classic at Madison Square Garden.
"To play that way when a couple of our veterans didn't have good games — and that's because we played against a good team — overall, it was really good for us."
As most KU opponents have done and will do throughout the season, Krzyzewski focused most on KU's trio of Mason, Devonte' Graham and freshman Josh Jackson.
"It's a big time backcourt," Krzyzewski said. "Those two kids (Mason and Graham), just so solid. And, obviously, (KU coach) Bill (Self) does a great job of coaching all those kids. They played defense hard. But, those two guards are terrific guards. I thought they really knocked us back at the start of the second half for about 10 minutes. And, to our guys' credit, the last 8-10 minutes of the game, I thought we played really well, really well against a really good team."
Krzyzewski also had nothing but good things to say about the way the Jayhawks (1-1) came away with Tuesday's victory. It wasn't lucky. It wasn't sloppy. It was just one talented player making a play and the other team having to live with it.
"Huge shot to win," Krzyzewski said. "What do you expect from the Garden in something like this, in November? Mason made a big time play. (He) was well guarded and just makes a big time play. Congratulations to them.... We fought hard, played against a really good team, and then (shook) hands with them because they hit a big, big shot and played really hard.
"You learn a lot from playing at this level of game and that's why this Champions Classic is so important for these four programs, to be able to play in games like this."
---
— See what people were saying about KU's matchup against Duke during KUsports.com's live coverage.
---
More news and notes from the win against Duke
---