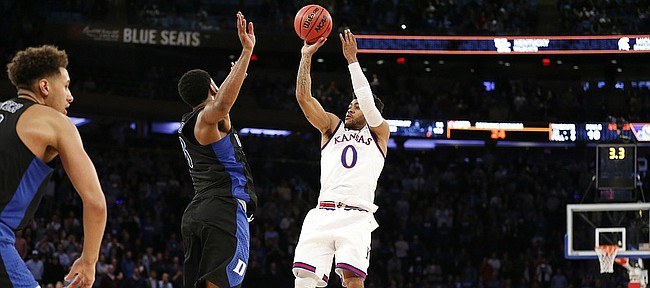 NEW YORK CITY — With his face plastered on all sides of a building dubbed as the World's Most Famous Arena on the outside, Kansas senior Frank Mason III knocked down the biggest shot of his Kansas career on the inside to lift No. 7 KU to a 77-75 victory over No. 1 Duke Tuesday night at Madison Square Garden in the Champions Classic.
Mason's jumper, a pure swish after driving hard to his left with 1.8 seconds remaining, helped the Jayhawks (1-1) survive a furious rally by Duke that saw the Blue Devils (2-1) erase a 12-point Kansas lead in the final eight minutes to set the stage for Mason to win it.
And there never was any doubt about where the ball was going and who would get the opportunity.
"It was quite a play we called," joked KU coach Bill Self of Mason's game winner. "Just get out of his way and go shoot it. He's made a lot of big plays for us.... He's a stud."
Photo Gallery
Kansas Basketball v. Duke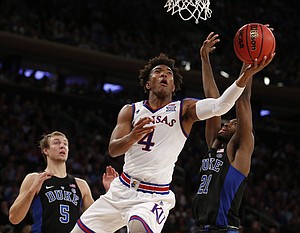 View a gallery of images from the Jayhawks' Tuesday night game against Duke in the Champions Classic at Madison Square Garden.
As he sat down at the postgame podium to talk to the media about his heroics, Mason, perhaps for the first time on a frantic night, exhaled hard. He then spent 10 minutes deflecting all of the praise heaped onto him to his teammates and coaches. And he meant it. So much so, in fact, that when teammate Devonte' Graham (13 points on 6-of-12 shooting) was asked if anybody else can handle what Mason shouldered at the end of the game and still deliver, the 5-foot-11 guard from Petersburg, Virginia, quickly interjected.
"Yeah. He can," said Mason, gesturing toward Graham. "He can. He could've made the same play."
Perhaps. But on this night, it was Mason who came through.
Asked if he knew the shot was good when he let it go, Mason said he never doubted it.
"It felt good when it left my hand," said Mason, who finished with a team-high 21 points on 8-of-13 shooting to go along with five assists. "The only thing I was a little worried about was my balance. I was a little bit off balance."
That Mason was still on the floor to be the hero in the first place was a bit of a good fortune.
While Kansas came away with the victory, it hardly looked like the Jayhawks would finish in the winner's circle when the two college basketball powerhouses fired up their engines to tip this one off.
Although Duke led 11-6 on the scoreboard at the first media timeout, the officials dominated the first five minutes of this one and kept up that pace most of the night. The Jayhawks and Blue Devils were whistled for 11 fouls in the first five minutes and each team had one starter with two fouls during that stretch. For the night, Kansas and Duke combined for 48 fouls, a number that was much smaller than it looked like it would be midway through the game.
Mason, who picked up his first foul in a series of back-to-back charge calls on him and Graham and his second on a dead-ball inbounds play by the Blue Devils, was forced to sit for five minutes of the first half. If not for that, Self said Mason, like Graham, also would have played the full 40 minutes.
"Hopefully we can get under 100 in the next two games," Self said, referencing the combined 111 fouls in KU's first two games. "But I thought we fouled, too. I didn't think they were bad calls, I thought we fouled. And I'm sure (Duke) coach (Mike) Krzyzewski probably thought the same thing."
None of those whistles mattered much down the stretch, when Duke erased a 12-point Kansas lead in the final eight minutes and tied the game on a three-pointer from freshman Frank Jackson on the wing with 15.5 seconds to play. The Blue Devils, like Indiana before them, out-shot Kansas from behind the three-point line, knocking in 8-of-19 triples compared to just a 2-of-17 clip for Kansas.
As much as that 11.8 percent sounded paltry, Self actually seemed pleased by it. But not for the reason you might think.
"I think it'll do us some good," Self said of the victory, calling it more of a must-win game for Kansas than it probably was for Duke. "For the first time we won a game when we shot it like crap — 2-of-17 from three, 9-of-19 from the (free throw) line — but they don't get transition points and we controlled the glass. It's not that complicated."
KU won the rebounding margin 38-29, including a 14-6 advantage on the offensive glass.
In the end, though, all of those little statistics and silly fouls mattered little to the game's biggest moment from, arguably, its brightest and baddest star.
Through two games of his senior season, Mason is off to a stellar start. He has led the Jayhawks in scoring twice and is averaging 25.5 points per outing and already hit two shots that will wind up on his career highlight reel.
Asked if that's a sign of him progressing and maybe doing some things that he could not have done as a younger player, Mason joked that he was "not sure if I would've been in in my younger days."
Doesn't matter. He was in there when it counted Tuesday night — foul trouble be damned — and he came through, just as the Jayhawks knew he would.
"That was the exact play coach drew up," Graham said. "(We were) super confident. The last three minutes we were just wasting time and putting the ball in his hands."
---
— See what people were saying about KU's matchup against Duke during KUsports.com's live coverage.
---
More news and notes from the win against Duke
---