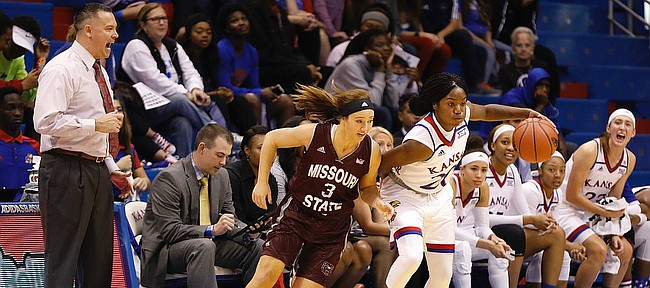 The Kansas women's basketball team trailed for most its season opener Sunday, taking every punch that Missouri State threw its way through three quarters.
The same can't be said for the fourth quarter.
Midway through the final period, Missouri State junior Liza Fruendt made a layup while being fouled for an 11-point lead — a knockout blow, as Kansas lost to the Bears, 87-64, after being outscored 32-12 in the fourth quarter.

"One thing that we talked about was being fragmented in the fourth quarter," senior Caelynn Manning-Allen said. "I felt like that was a moment where you saw we weren't playing together as a team."
Second-year Kansas coach Brandon Schneider lamented his team's shot selection and lack of ball movement. That was apparent in the fourth quarter, as the Jayhawks shot just 28 percent, and missed all nine of their three-point attempts. For the game, Kansas shot just 36 percent from the field.

Schneider knows teams are going to dare Kansas to settle for outside shots because of its athleticism, which is what happened Sunday. It wasn't the Jayhawks' 24 three-point attempts that bothered him; it was how they got them.
"It's too many (possessions) without the ball moving," Schneider said. "Today, we settled for the first three and first jump shot a lot. We didn't get any inside-out threes. Those are the ones you make, whether it's the ball touching the paint with a post feed or dribble penetration to find the open man."
Schneider said Missouri State's ball movement offset the Jayhawks athleticism on defense. As a result, the Bears shot 8-for-15 (53 percent) from beyond the arc.
The Jayhawks weren't nearly as efficient.
Sophomore McKenzie Calvert led the way for the Jayhawks with 20 points, and junior Jessica Washington added 15 points. However, Calvert shot 7-of-21 and Washington was 5-of-21 from the field.
After grabbing an early 11-5 lead, Washington picked up her second foul of the game and was forced to the bench. The Lady Bears immediately responded with a 12-0 run to take a six-point lead entering the second quarter.
Washington had four of KU's 10 assists, so it's not hard to see why they didn't fare well without her on the court in the first quarter.
"There's no doubt she's a special player," Missouri State coach Kellie Harper said of Washington. "A special player as dynamic as her, opponents are going to be happy when she's sitting on the bench."
However, the Jayhawks battled the Lady Bears for three quarters, and there are some positives that Schneider can take from the game.
The Jayhawks were able to overcome Washington's foul trouble thanks in large part to Calvert hitting back-to-back deep three pointers. They also showed their athleticism on defense, forcing 22 turnovers and recording 12 steals and six blocked shots.
"I think there are going to be some positives," Schneider said, "because we were in the game with a really good team."
Kansas will play host to SMU at 7 p.m. Wednesday.