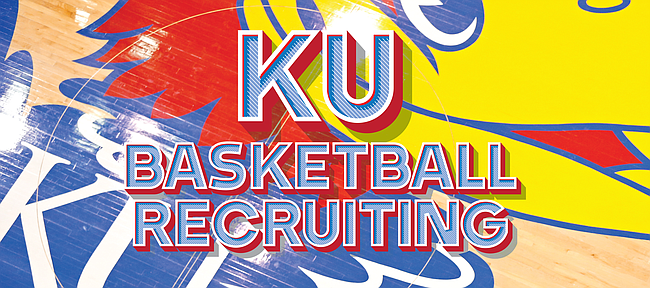 A few months after becoming the first player in the 2017 recruiting class to orally commit to the Jayhawks, four-star combo guard Marcus Garrett on Wednesday became the first player in the class to sign with Kansas.
Garrett, a 6-foot-5 combo guard from Skyline High in Dallas, signed his letter of intent at his high school around 9:30 a.m. Wednesday.
Garrett's signing made the day even more special than it already would have been, as Garrett also celebrated his 18th birthday on Wednesday.
"Coach (Jerrance) Howard has known Marcus for quite some time," KU coach Bill Self said. "He plays for a good friend of ours, Paul Graham, who I was an assistant with at Oklahoma State many years ago. After watching Marcus and getting to know him, he became a focal point of our recruiting.
"We feel Marcus is extremely talented and so versatile with his size. At 6-foot-5, he can play any position on the perimeter. Anyone can play with him and he can play with anyone."
Wednesday marked the beginning of the week-long early signing period for the 2017 class and, after he signed, Garrett briefly joined Shay Wildeboor of JayhawkSlant.com for a signing day podcast.
"I woke up excited," Garrett told Wildeboor. "Walking through the hallways, everybody congratulated me and told me how proud they were of me."
Asked what it was that sold him on the Jayhawks despite not having visited before making his commitment, Garrett said the research he did into the program made him want to become a part of the family.
"I love the Kansas Jayhawk tradition," he told Wildeboor. "And I've seen that their fans are really into the basketball program. Once I visited, I interacted with the players very well. They still text me to see if I'm doing good or not."
As for what type of player the Jayhawks are getting in Garrett, he's a versatile guard who can play multiple positions and is a long and athletic option on both offense and defense who is willing to both set up his teammates and look for his own offense.
But Garrett said intangibles were the part of his game he was most excited to bring to campus.
"They're gonna get a hard working player that plays defense and competes," he said.
Self added: "We feel like Marcus' best ball is well down the road. We're excited to get him. He's a young man that knew what he wanted to do early on in process and we appreciate his loyalty toward Kansas."
— Story was updated Thursday, Nov. 10, to add KU coach Bill Self's comments following KU's official release that Garrett had signed