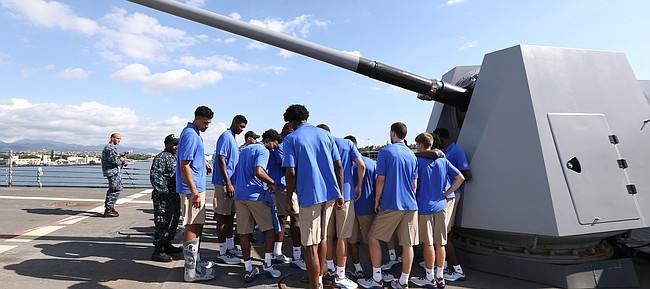 HONOLULU — Kansas coach Bill Self said Wednesday, before the Jayhawks fulfilled their military duties at Pearl Harbor, that senior forward Landen Lucas was wearing a walking boot on his right foot as a preventative measure and that Lucas was not in jeopardy of missing Friday's season opener against No. 11 Indiana.
Self said Lucas was a full participant during the Jayhawks' 90-minute practice session Wednesday morning and that there was no evidence of a stress fracture at this time.
Photo Gallery
Jayhawks in Honolulu Day 2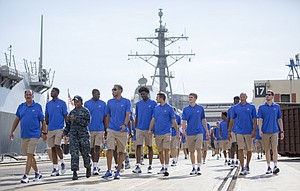 The Kansas Jayhawks toured Pearl Harbor and participated in a kid's clinic at the naval base.
"It's nothing but a sore foot," said Self, noting that there was no stress fracture. "They just don't want it to become one."
Lucas joined the team in touring the USS Chafee destroyer and USS Arizona Memorial during the afternoon and also participated in the kids clinic to cap the night. He looked to be moving fine and climbed several flights of stairs on the ship with no problem. He took part in the clinic without wearing the boot.
KU will open the regular season at 8:30 p.m. (central) on Friday night in the second game of the Armed Forces Classic. Arizona and Michigan State, who also toured the military base on Wednesday, will play in the early game.
Kansas is slated to practice again Thursday morning, sometime around 10:30 a.m. local time.