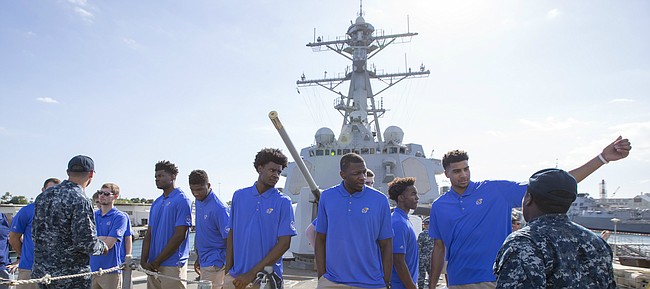 HONOLULU — Kansas coach Bill Self is used to being at the top of the college basketball world. But sitting at the helm of a 509-foot long, active U.S. Navy destroyer is a whole different experience.
Such was the scene Wednesday at Joint Base Pearl Harbor-Hickam near Honolulu, where Self and the Jayhawks toured the USS Chafee during their day with the military.
Photo Gallery
Jayhawks in Honolulu Day 2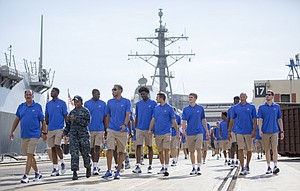 The Kansas Jayhawks toured Pearl Harbor and participated in a kid's clinic at the naval base.
From learning about the ship's weapons systems and operating methods — both getting up to top speed of 30 knots and dropping anchor to stop — to actually handling some of the shells and seeing where the captain drives the ship, the Jayhawks went through a 45-minute, question-and-answer tour chaperoned by several U.S. Navy personnel, who were more than happy to show off their shiny ship.
The 13-year-old ship, painted "Haze Gray" returned to port two weeks ago from a six-week, open-sea training activity off the coast of Southern California.
While several members of the ship's crew were overjoyed to have the Jayhawks on board — one woman had several coaches and players sign a KU shirt and Sgt. Vick Patel, of Overland Park, was wearing the Kansas polo he bought when the team won the national championship in 2008 — the Jayhawks appeared to be just as pleased with the opportunity to see a real naval ship.
Self asked several questions about the specifics of what they were shown, team managers took pictures and videos of all parts of the ship and the players paid close attention throughout the afternoon, with some handling some of the shells and getting a first-person feel for a handful of the duties carried out on the ship.
Few were able to top KU's Director of Student-Athlete Development, Fred Quartlebaum, though. Coach Q, as they call him, made sure to take a seat and pose for a photo in the captain's chair. Jacked by the opportunity, Quartlebaum, who was an assistant coach at Navy from 1992-96, quickly boasted that he would send the photo to some of his Navy buddies.
Self was not without his light-hearted moments. In addition to encouraging strength and conditioning director Andrea Hudy to pose for a photo behind the steering wheel in the control room, Self joked with Petty Officer, first class Nelson Feliciano about his New York City roots.
"Is that true what they say about Queens being the softest of the five buroughs," Self joked within earshot of assistant coach Norm Roberts, a Queens native himself, who was the head coach at St. John's from 2004-10.
Rather than attempt to prove otherwise, Feliciano and Roberts simply laughed.
There were plenty of serious moments on the USS Chafee on Wednesday. Nearly all of the players and coaches onboard posed for photos and shook hands with the ship's crew and Self went out of his way more than once to utter words similar to, "I appreciate you guys. Thanks for what you do."
The words were far from lip service. Tuesday, shortly after the Jayhawks arrived in Hawaii, Self told reporters that the Armed Forces Classic's tie to the U.S. Military and 75th anniversary of the attack on Pearl Harbor played a big part in KU making the trip to Hawaii for the second year in a row.
"It's the reason why we came," Self said. "We wouldn't have come if it weren't for that. We were just here last year (at the Maui Invitational), we're not gonna have a big contingent of fans here. Most of our fans, I think, will be in New York (for the Champions Classic vs. No. 1 Duke on Tuesday) and we knew that. But it was an opportunity, a once-in-a-lifetime type deal, to be a part of the anniversary of Pearl Harbor. We'll get an education in some ways that, obviously, none of us would've had an opportunity to get."
Landen Lucas OK
Self said Wednesday before the Jayhawks fulfilled their military interactions at Pearl Harbor that senior forward Landen Lucas was wearing a walking boot on his right foot as a preventative measure and that Lucas was not in jeopardy of missing Friday's season opener against No. 11 Indiana.
Self said Lucas was a full participant during the Jayhawks' 90-minute practice session Wednesday morning and that there was no evidence of a stress fracture at this time.
"It's nothing but a sore foot," Self said. "They just don't want it to become (a stress fracture)."
Lucas joined the team in touring the USS Chafee destroyer during the afternoon and also went to the USS Arizona Memorial and participated in the kids clinic later Wednesday night without the boot.