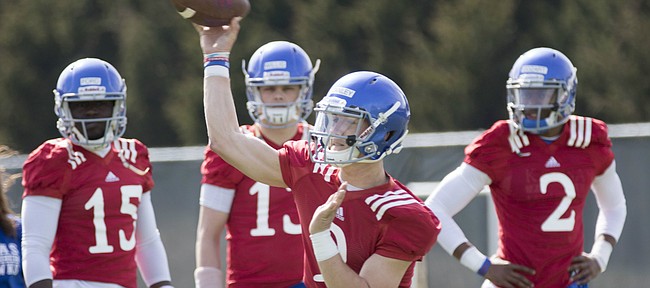 Lenny Jankowski, head football coach for Vero Beach (Fla.) High, watched the Kansas-West Virginia football game Saturday night from an establishment in nearby Fort Pierce when his phone caught fire.
His son Ryan, a ninth-grader who has been his dad's ball boy, "since he came out of mom's womb," according to Jankowski, was on the other end, also watching Carter Stanley playing quarterback with great interest.
"Dad," Ryan Jankowski said to Stanley's high school coach, "did you see him? He's ripping it!"
Stanley, a redshirt freshman who two weeks ago climbed from third to second on KU's quarterback depth chart, was forced into the game in the third quarter of a 48-21 loss to West Virginia when starter Montell Cozart went down with concussion-like symptoms.
In his first extensive game experience, Stanley completed 9 of 11 passes for 127 yards and two touchdowns with one interception. He also ran for 34 yards on four carries.
"I'm just his high school coach, and I'm a big Carter fan, but here's the thing, he doesn't have this big, crazy arm, but Carter's best quality, even when he was in high school, was that he was such a gamer," Jankowski said by phone from Vero Beach. "He wasn't one of these guys who was going to wow you in seven-on-seven stuff, wasn't going to throw the ball to the moon and back, but when the lights went on and he'd go out there in a game, that was when he always was at his best, and I mean always."
That's why Jankowski wasn't among those surprised either by Stanley not getting a shot earlier or by him performing so well under pressure.
"Watching him the other night, I thought about that, about how he always showed his best in games," Jankowski said. "He has that uncanny ability to keep a play alive and get through his progressions."
Stanley consistently getting through his progressions was one noticeable difference between him and those head coach David Beaty turned to before him for starts, junior Montell Cozart and sophomore Ryan Willis. They both have demonstrated a tendency to get stuck on one receiver.
"Knowing Carter, the best way I can describe him is that kid, he has the ability to put it all together in a game and he maintains his composure," Jankowski said. "He's a really great kid and he has that ability to bring positive energy. I'm sure he has to be popular in the locker room. He's one of those guys that everybody likes and rallies around. He's hard-working, calm, cool, one of the coolest cats I know."
Stanley had developed a hitch that KU's coaches did not see on his high school film, and with good reason. Jankowski said he never saw the hitch until Stanley sent him video from KU.
"He didn't appear as if he had it the other night," Jankowski said. "He looked very fluid."
A redshirt freshman, Stanley has appeared in six games and has completed 22 of 32 passes for 266 yards, most of it late in games. Even when he was third on the depth chart, Jankowski said, he remained upbeat.
"When I have players in college and things aren't going perfect for them, playing time, the wins haven't come as fast as maybe you had hoped, the coach in you, the parent in you, you want to be there for them," Jankowski said. "Carter would always cheer me up when I would talk to him, not the other way around. He always had the best answers. He'd always be positive and say he just needed to keep working hard."
Beaty has not announced a starting quarterback for Saturday's 11 a.m. kickoff at Memorial Stadium against Iowa State. Readers of KUsports.com voiced their opinions in a poll asking which quarterback they would start. As of Tuesday night, the results: Stanley (86 percent), Willis (12 percent), Cozart (1 percent).