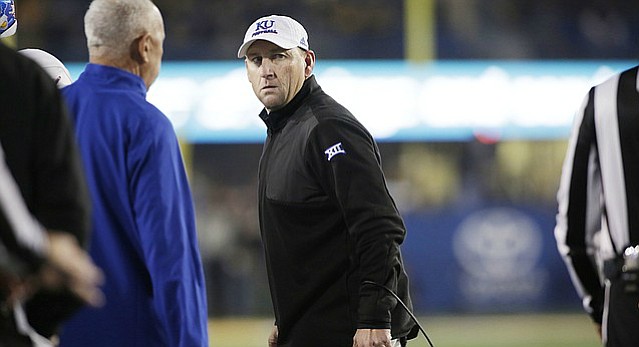 Morgantown, W.Va. — In the event you turned the TV off after Kansas was guilty of a taunting penalty on the opening kickoff, quickly followed by the standard litany of sins from the offense in the first four minutes: hold, false start and a Montell Cozart interception near the sideline, congratulations.
You saved yourself the trouble of blowing money on a new flat-screen brain-softener.
You stick around much longer than you did and there is no way you don't rifle your remote, beer bottle or iPhone through the set, so incensed at the recurring nightmare playing out every Saturday like that flight to nowhere that never stops on one of the cooler Twilight Zone episodes.
Fourth down-and-2 at midfield. Just once, wouldn't you like to see the so-called hurry-up offense hurry up and go for it in that situation? I don't have to tell you what happened next. You already know. But even that — the predictable timeout to discuss what to do, thus giving the defense a chance to get its strategy in order — isn't what would have had you standing in a long line of diehard Kansas football fans this morning, newspaper advertisement in hand to show the electronics-department sales clerk which deal you're seeking.
No, not the timeout, rather the decision reached during it is what would have flipped your lid. Not a single person among the 56,343 who watched West Virginia school Kansas, 48-21, at Milan Puskar Stadium could have guessed that Kansas coach David Beaty would neither go for it nor send punter Cole Moos onto the field to boot West Virginia into bad field position.
Instead, Beaty opted for a mix of the two, a play that carried a much higher risk than having Moos kick and a much smaller potential reward than running a play, maybe even a running play, for a first down. Not cool to run the ball, I know, but shocking the opponent sometimes works.
Not that the play for which Beaty called a timeout didn't come with shock value. It did, all right. I'm stalling, I know, but it's for good reason. I'm delaying the horror of reliving what I witnessed as long as I possibly can.
Deep breath. Ready, set, go!
Beaty had the go-for-it personnel on the field. Cozart stood in the shotgun. Mesa Ribordy snapped the football to him. And Cozart punted. Out of bounds at the 23. The thinking: Cozart boots the ball in bounds and it rolls, at best pinning West Virginia inside its 10.
That's if the quarterback perfectly executes a play well outside of his comfort zone. The chances of that happening are lower than either Taylor Martin or Ke'aun (5.4 yards per carry going into the night) Kinner running for the first down. Cave-man football, I know. But the game was played hours before we all turned our clocks back, except those who arrived at church an hour early this morning, and since they were there anyway, decided to pray for a junior-college or graduate-transfer quarterback, so maybe just a little turn-back-the-clock football on fourth-and-2 might have made sense, just this once? No? OK, I'll grab my roasted dinosaur leg and head back into my cave to duck from bats. (Incidentally, covering Kansas football in the post-Todd Reesing years, I've developed quite the fear of flying objects, particularly pigskins.)
Don't get me wrong, the quick kick was nowhere near as infuriating as Charlie Weis pressing the fake-punt button with brutal field position and then trying to say it was punter Trevor Padula's call. Not even in the same galaxy as that pearl, but it did trigger the memory of that desperate act during a losing streak that has Kansas football scratching that seven-year itch, wondering what it would be like to fulfill a fantasy and win a road game, just once.
Beaty explained the quick-kick decision: "We wanted to take an opportunity to see if we could get them to jump offsides and get the easy first and still keep our guys on the field. I would have liked to see a better punt, maybe get further down in there, but you know they've been a high-pressure punt team all year. Little concerned about that pressure, so it was a way for us to take some of that pressure off and get the ball off cleanly and not give up a block."
Certainly, it wasn't the reason the official road losing streak reached 40, which is another way of saying the Jayhawks have lost their last 43 games played outside of Lawrence because three setbacks to Missouri were played at Arrowhead Stadium, a neutral site.
Ironically, that losing streak has masked the severity of the state of KU football during all but a portion of the first year of the Obama Administration. It has done so because it hints that at least part of the solution lies in learning how to win on the road. Not so. It's learning how to win, period.
Starting with Game No. 1 of the official road losing streak, 34-30 in Boulder, Col., Oct. 17, 2009, KU has played 66 Big 12 football games, posting a 3-63 record. That's not what win-loss records look like. It's what snap counts sound like.
Oh well, at least Carter Stanley pepped up the offense in relief of Montell Cozart (concussion symptoms) and gives Iowa State an extra QB about whom to worry.
— See what people were saying about KU's matchup against West Virginia during KUsports.com's live coverage.
---
More news and notes from the loss at West Virginia
---