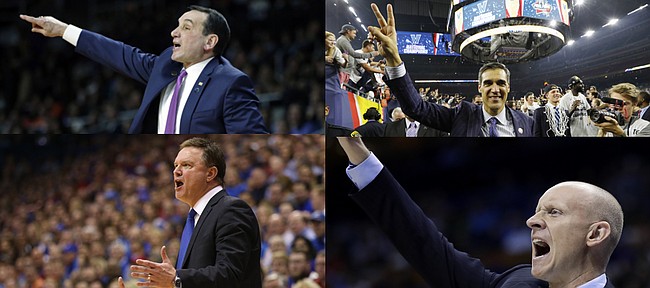 No rational thinker could deny that Bill Self's 13th Kansas University basketball team was the third-best in the nation, ranking behind only national champion Villanova and runner-up North Carolina. And third is as good a guess as any as to where the Jayhawks will open next season.
Now that the deadline for determining NBA Draft status has passed and all but one major recruit — forward Jarrett Allen (mulling Houston, Kansas and Texas) of Austin, Texas — have made a college choice, it no longer is too early to take a stab at a 2016-17 preseason top 10:
1 Duke: The Blue Devils return four double-figures scorers, including Grayson Allen (21.6 points per game), and welcome four of the nation's top 12 recruits, as ranked by Rivals.
Draftexpress.com projects two of the recruits to go in the top three picks of the 2017 draft, with 6-foot-11 Harry Giles going first and 6-8 Jayson Tatum third.
The Blue Devils have it all, with athletic big men, rich NCAA Tournament experience in the backcourt and frontcourt and great shooting.
Look for Duke to get every first-place vote in the initial poll of the 2016-17 college basketball season.
Duke beat out Kentucky and TCU for Marques Bolden, a springy, 6-10, 250-pound center with a 7-6 wingspan from DeSoto, Texas, to round out an already-dynamite recruiting class.
A healthy season from smart, veteran post player Amile Jefferson and a strong rookie season from point guard Frank Jackson, the nation's No. 12 recruit, are two major keys for Duke, which has so much firepower around those complementary pieces.
2 Villanova: Competitive three-point marksman Ryan Arcidiacono and center Daniel Ochefu are gone, but the national champions return the rest of their important pieces, including starters Jalen Brunson, Josh Hart and Kris Jenkins. Relentless, athletic glue guy Mikal Bridges came on strong at the end of his freshman season. Spurred by confidence gained from a national-title game in which he made six of seven field goals and all six free throws, Phil Booth figures to shake from a sophomore slump to fulfill the promise he showed as a freshman. Villanova still has the pieces to bring out the worst in opponents and shut down big-time scorers.
3 Kansas: Nobody should be even mildly surprised if junior Devonté Graham emerges as the team's best player, at least until freshman Josh Jackson becomes completely comfortable with the transition to college basketball. Graham outplayed Oklahoma's Buddy Hield at both ends in Norman, Okla., offering a glimpse of his all-around talent. Graham and Frank Mason III form one of the nation's most experienced, talented backcourts, and Carlton Bragg Jr. projects as a candidate for most-improved honors. Landen Lucas showed remarkable improvement during the course of the season and has the strength to bruise any big man he'll face.
Jackson's eagerness to stand out defensively and compete hard on the boards should make for a smooth transition to the college game.
4 Xavier: Jalen Reynolds' decision to stay in the NBA Draft left the Muskateers with a hole in the middle. Norfolk State transfer RaShid Gaston (15.5 ppg, 9.6 rpg) will be counted on to fill it with physical defense and strong work on the boards.
Small forward Trevon Bluiett's decision to remove his name from the NBA Draft eased the pain of Reynolds' exit. Bluiett and Edmond Sumner flank penetrating point guard Myles Davis to give Xavier outrageous quickness on the perimeter, and J.P. Macura brings outrageous shooting range off the bench.
Muskateers coach Chris Mack has upgraded the program's recruiting and welcomes another strong class to campus.
5 Oregon: Dillon Brooks and Tyler Dorsey declared for the NBA Draft, didn't receive invitations to the NBA combine and returned to school. That means three of four double-figures scores from last season's No. 1 seed in the NCAA Tournament are back. The Ducks are the team to beat in a competitive Pac-12.
6 North Carolina: Terrific college basketball players Marcus Paige and Brice Johnson are gone, and the incoming recruiting class isn't as packed with as many loud talents as many of Roy Williams' classes, but the off-to-the-races Tar Heels still have plenty of ways to score and a coach who gives them the freedom to shoot, necessary to build confidence.
Joel Berry will get more shots, which based on his performance in the NCAA title game (20 points, four of four three-pointers) is a good thing, and Kennedy Meeks and explosive Isaiah Hicks, the ACC's sixth man of the year, lend muscle. This will be the year Justin Jackson either greatly improves his three-point accuracy or more consistently brings his game closer to the basket. If freshman point guard Seventh Woods — named in honor of one of Roy's wayward tee shots on No. 7 at Alvamar private, or just a coincidence? — and classmate power forward Tony Bradley can make major contributions early, the Tar Heels will exceed expectations of those who don't consider them worthy of a top-10 ranking.
7 Kentucky: Next to Duke, the Wildcats have the most talented recruiting class, but the departure of guards Tyler Ulis and Jamal Murray and forward Alex Poythress leaves the team shy of experience.
Guards De'Aaron Fox and Malik Monk and forward Bam Adebayo, ranked Nos. 6, 7 and 9 by Rivals in the Class of 2016, might not play like freshmen, but it's tough to rank Kentucky any higher than this given the lack of experience.
8 Michigan State: Four recruits ranked in the top 41 in the nation, led by No. 10 Miles Bridges, will be counted on to compensate for the loss of projected lottery picks Denzel Valentine and Deyonta Davis and sharp-shooter Bryn Forbes. Enough complementary, experienced players will help them through it to believe that the Spartans have what it takes to contend for the Big Ten title.
9 Louisville: Center Chinanu Onuaka's somewhat surprising early exit to the NBA Draft dictates that the Cardinals don't have enough talent to merit a top-10 ranking. And then you look at that brilliant, intense, nattily attired man at the end of the bench and you figure he'll find a way to play a style that maximizes the players' abilities because Rick Pitino always does.
Point guard Quentin Snider, fourth on the team with a 9.4 scoring average, is the leading returning scorer, but look for Snider to make sure that freshman V.J. King, Penn graduate transfer Tony Hicks or somebody else leads the team in scoring.
10 Dayton: Four of five starters, including leading scorer Charles Cooke, and all the key reserves return for the Flyers, defending Atlantic 10 champions. Experience can make up for a lack of blue-chip prospects, and the Flyers have a surplus of it. They also are coached by a rising star, Archie Miller.