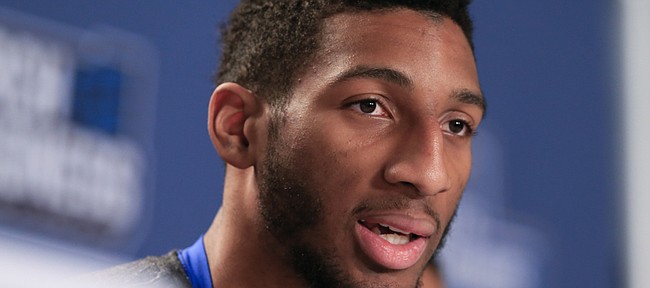 Yet another basketball big man became available to colleges Wednesday when Kentucky junior Marcus Lee, a 6-foot-9, 225-pounder from Antioch, Calif., not only dropped out of the 2016 NBA Draft but also announced plans to transfer from the SEC powerhouse school.
Coaches from Kansas University, Iowa State, Baylor, Gonzaga and Georgia Tech were the first to reach out to representatives of Lee, according to Peegs.com.
Lee averaged 6.4 points and 6.0 rebounds a game last season. He hit 68 percent of his shots, 40.3 percent of his free throws. He had 59 blocks in 36 games.
"Marcus Lee informed us today that he is pulling his name out of the draft but has decided he is going to transfer to a school out west to be closer to his family," Kentucky coach John Calipari said. "We talked it through together and discussed the team next season, which he said had no bearing on his decision. I also told him he was a semester away from graduating. With that said, he was still adamant that, after the (NBA) Combine experience (where he graded poorly), a year off and regrouping would be the best thing."
Lee's decision surprised pundits such as ESPN.com's Chad Ford, who notes he will have to sit out a season in accordance with NCAA rules and not be part of the draft until 2018. Lee, according to the Lexington Herald-Leader, will be 23 on that draft day, just three months from his 24th birthday.
"In NBA Draft years, that's old. You're an old man," Ford told the paper. "It's going to be tough road for him now."
KU likely won't have scholarship room for Lee if it lands two prospects it has been targeting in recruiting. The Jayhawks are in the final three (KU, Houston, Texas) for Jarrett Allen, 6-9 senior from St. Stephens Episcopal in Austin, Texas, and the final four (KU, Miami, Washington, USC) for Duke transfer Derryck Thornton, a 6-2 freshman point guard who played high school ball at Findlay Prep in Henderson, Nev.
Newman to transfer?: In something of a surprise, Mississippi State freshman Malik Newman on Wednesday pulled his name out of the NBA Draft. The Clarion-Ledger newspaper says that, like Lee, Newman might opt to transfer to another school. KU recruited Newman heavily out of high school.
"We have not spoken with Ben (Howland, MSU coach)," Horatio Webster, Newman's dad, told The Clarion-Ledger. "I mean, we don't know if Ben's got the same vision that we have. We don't know if we have the same vision that Ben has. There's going to have to be some talking going on. Once we meet and talk, a decision will be made. But right now he's at Mississippi State.
"The fact that he was (projected to be) in the second round. I don't think he did enough to move up, to move the meter. So we just thought him being a freshman, it would be wise to take his name out and go back to work on the things that he wasn't really great at."