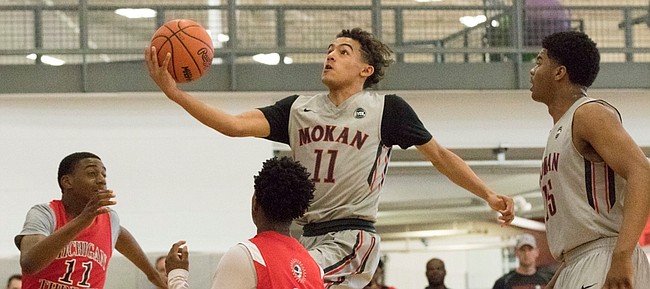 The opening tip of the marquee game of the KC Classic basketball tournament went to MoKan Elite point guard Trae Young, who after a couple dribbles, launched a deep lob pass to fellow blue-chip college prospect Michael Porter, Jr., who flushed it — one-handed of course.
In other words, it took about five seconds for the Kansas University hoops targets to live up to the hype as MoKan drilled Michigan Select, 89-40, Saturday afternoon before about 300 fans in Sports Pavilion Lawrence.
"I think sometimes when people think of Trae they think of a scoring point guard. He's really shown the past couple weekends he's just as good a facilitator as a scorer," said Porter, a 6-foot-8 junior forward from Tolton Catholic in Columbia, Mo., who soon will be playing his senior season at a yet-to-be-determined high school in the state of Washington.
"He's a great passer. That's the most (assists) he's had in a while. He's capable of that every game," added Porter, who scored 29 points off 13-of-18 shooting and grabbed 10 boards in Saturday's rout.
Young, 6-1 out of Norman (Okla.) North High, who scored 103 points in 105 minutes in four games at last week's EYBL event in Virginia, dished 16 assists while scoring 17 points off 6-of-9 shooting against the outmanned Michigan team.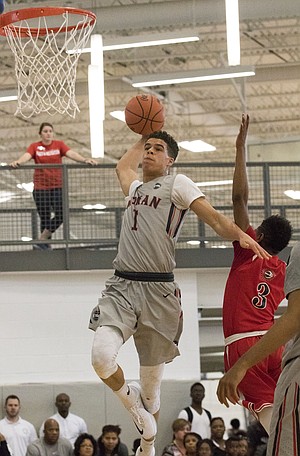 "It may be a sign. I don't know," the personable Young said with a smile, jokingly referring to the fact he had so many assists in Lawrence, site of one of his finalists, the KU Jayhawks. "I have great teammates. I know when I pass it to them they are going to make a play. I like giving my teammates the ball. I'm a leader. It's something I do. When you've got great players on your team you've got to make sure everybody does well. You've got to be a true point guard out there."
Young, who is the son of former Texas Tech standout Rayford Young, is considering KU, Kentucky, Duke, Texas Tech, Oklahoma, Oklahoma State, Texas and others. He's added Washington to his list because his good buddy Porter's dad, Michael Sr., recently was named an assistant on Lorenzo Romar's Huskies staff.
"I like coach Self. I like Lawrence. I like this university," Young said.
He showed some modesty, not taking the bait when a reporter asked him if he reminded himself of Golden State's Steph Curry. Young hit two threes Saturday, one from downtown.
"I'm not there yet," Young said. "I'm working to be at that level, hopefully to be as good as him, even better."
In that quest, he noted that he works on "karate, yoga, eating right to keep my body right."
Porter, meanwhile, hit a pair of threes from the corner and finished an assortment of vicious dunks. He ran the floor well and appears to have great court vision. In other words, like Young the real deal.
He's ranked No. 2 in the Class of 2017 by Rivals.com and Young No. 13.
"I think my versatility, the fact I'm trying to make the game as easy as possible," Porter said of reasons for his success. "I try to not over-dribble. I try to take what the defense gives me. That helps a lot."
He said: "I just try to play an all-around game. I like Kevin Durant, Carmelo Anthony, Rudy Gay, big wings like that. At the end of the day I'm my own player and trying to do my own thing."
A polite person known for exuding no attitude in interviews, Porter said "It's definitely going to be a big move going out there (to Washington for senior season). But it's not a lock I'll go to Washington. I'm considering other schools on my list (including KU, Kentucky, Duke, UCLA, Missouri, Stanford and others)."