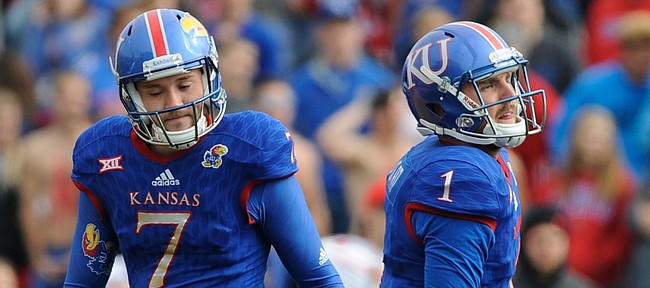 The kicking game for Kansas University's football program has been a point of consternation and experimentation for the past several years, and it continues to be a problem under second-year head coach David Beaty.
But help could be on the way.
Speaking to a roomful of KU supporters last week in Denver, Beaty referenced "some new guys coming in that'll be here pretty soon," referring to a group of incoming specialists.
Think: new punter, new place kicker, new long snapper.
That's not to say that all of those newcomers will come in and start right away for the Jayhawks in 2016, but they certainly will have every opportunity to earn those roles.
Outside of senior-to-be Matthew Wyman, a proven weapon as a kickoff specialist who lacks accuracy as a place kicker and experience as a punter, the Jayhawks are thin in the third phase of the game Beaty has emphasized since Day One.
The identity of the new players is not yet known, but Beaty gave a hint about their background to the Denver crowd.
"I'm excited about those guys because I've seen what they've done at their junior colleges," he said. "They're seasoned veterans that can help us right away."
It stands to reason the newcomers will report to campus in early June in time for summer workouts and preseason camp. What's more, if any are scholarship players, they likely will count forward toward KU's 2017 recruiting class, which currently has six oral commitments and room for several more.
If that's the case, it will cut into the number of 2017 prospects Beaty and company can sign, but if that's the price of improving the punting and kicking game, it would be hard for anyone to argue against it.
Among Big 12 teams last season, the Jayhawks ranked 10th in punting (34.6 net average), 10th in field-goal makes (six) and percentage (.545) and 10th in extra-point makes (21) and percentage (.913).
Numbers like those had new special-teams coach Joe DeForest concerned about KU's kickers during his first few weeks on the job.
"As far as the skill players go, I think we've got the right guys," DeForest said back in early April. "But we definitely have some work to do with our specialists."
KU's roster features five players listed as kickers, punters or both, but DeForest already said Wyman would not be the Jayhawks' punter this season. That leaves Michael Valentine and Quinton Conaway competing with newcomers for punting duties, and the unknown kickers battling Wyman, Conaway, Nick Bartolotta and Ryan Weese competing for KU's place-kicking role.
The fact the Jayhawks still are searching for competence in the kicking game is just one of the many problems that have plagued the program in the post-Mark Mangino era. Outside of punter Trevor Pardula, a Charlie Weis recruit who was among the best punters in the Big 12 during the 2013 and 2014 seasons, KU has struggled to find consistent options at either kicking spot.
Just twice since Jacob Branstetter handled kicks and Alonso Rojas punts in 2010 have the Jayhawks made it through an entire season with one player doing each job. That came in back-to-back seasons in 2013-14, when Pardula was the punter and Wyman the kicker.
In the six seasons since Mangino's departure, Branstetter, Wyman, Bartolotta, Alex Mueller, Ron Doherty and Nick Prolago have taken their turn at place kicking. During that same stretch, Rojas, Pardula, Wyman, Doherty, Sean Huddleston, Eric Kahn and Ruben Guzman have dropped back to punt.
That's one kicker for every season and just over one punter per season. Identifying and developing one of each to hold those jobs for at least the next couple of seasons is one of DeForest's biggest challenges. If he's successful, it would go a long way toward helping KU become more competitive.
Beaty is a believer that his new special-teams man can get the job done.
"We need improvements in all areas, and I'm really excited about him being here because he's constantly put programs out there in the top quarter of the four core (special-teams) areas," Beaty said of DeForest. "I mean, he's just done it."