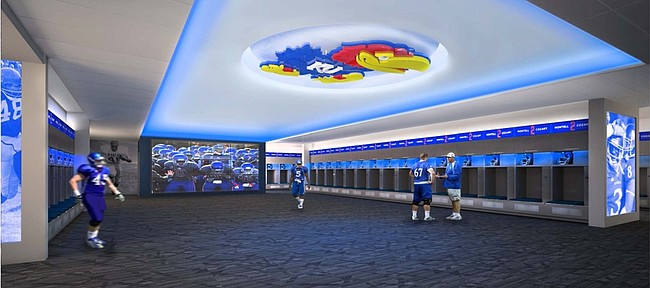 A $2-2.5 million locker-room renovation that will be done in time for preseason camp and the upcoming football season is underway at the Anderson Family Football Complex, Kansas University athletic director Sheahon Zenger told the Journal-World on Monday.
The project, a vision by second-year head coach David Beaty, will upgrade the KU locker room, players lounge and auditorium where team meetings and film sessions take place.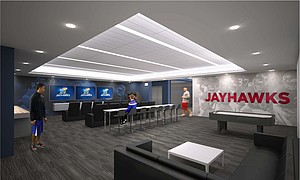 Zenger said the idea behind the changes was to keep the 80,000-square foot building, which was built in 2008 for $33 million, among the nicest college football facilities in the country.
"This one's more than window dressing," Zenger said of the project. "Thankfully, the building was done very, very well, and it's not old. But it's a lot like when you build a house and during the first nine years you live there the styles have changed. It always has been state-of-the-art, it always has been as good as anyone's. What we can't afford to do is ever let it fall behind. So we've got to continue to keep it as up-to-date as it can be."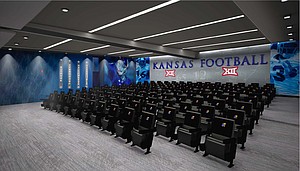 To that end, construction crews will give facelifts to the individual lockers, as well as the look, feel and vibe of the locker room as a whole — including an illuminated Jayhawk logo on the ceiling — and new oversized seats and electronic equipment will be added in the players lounge and Mrkonic Auditorium.
The goal, Zenger said, is to create a more impressive and functional environment that will have a positive impact on the everyday lives of the players.
"Our focus going forward was largely stadium," said Zenger, referencing the much-talked-about need for major changes at Memorial Stadium. "But what coach Beaty has convinced me of is that we need to take care of the space in which our players live and work and breathe every day, and that makes perfect sense."
Zenger said the money for the project came through private donations and added that his fund-raising staff deserved the lion's share of the credit for getting the money needed to make this happen. Zenger said fund-raising efforts for Memorial Stadium upgrades remain ongoing and were not impacted by this project.
Beaty and his assistant coaches have been sharing the plans for the new look with recruits for several months, and talk of what's to come, as well as the drawings which bring the concept to life, have been received with great excitement by those who have signed with KU or are continuing to consider Kansas in the recruiting process, Zenger said.
"We have to throw our emphasis on anything that impacts our football players first," Zenger said. "And, really, we have to build this program from the inside out and the ground up."