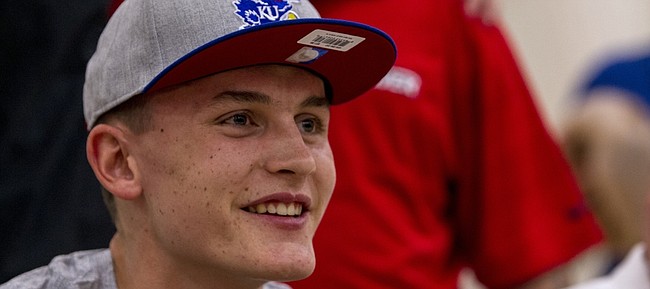 The official website write-up on Saturday's Ballislife.com All-America game referred to future Kansas University forward Mitch Lightfoot as a "rugged and serious-minded player."
The 6-foot-8, 219-pound state of Arizona Gatorade Player of the Year, who scored 32 points in Team Elite's 152-134 victory over Team Future at Long Beach (Calif.) City College, certainly made an impression with his no-nonsense attitude during the week of the game.
Here's an example.
"We had practice Thursday and Friday. Those were basically pick-up (games)," Lightfoot, a senior at Gilbert (Ariz.) Christian, said. "Afterward, I initiated some competitive drills — two dribbles, face-up from the top of the key, things like that."
Yes, you read it right. The high school senior, ranked No. 67 nationally by ESPN.com, organized drills in an otherwise low-key all-star environment.
"I was playing with Yoeli Childs (6-7, 220), who is going to BYU, Dewan Huell (6-10, 205, Miami), the kid going to Texas (6-10, 230 James Banks). Every time I get a chance to do something like that, I feel I want to take advantage of it," Lightfoot said of working out with elite bigs.
"The pick-up was fun and all, but I really wanted to do something where I was going to get better by being out there. I felt those were some fun drills that helped me get better," he added.
Lightfoot, who scored 27 points in the second half, didn't necessarily like the way the game became a dunkfest late, with breakaway after breakaway. At least his team won the dunkfest, though.
"I was trying to help my guys crank it up. Some of 'em did. Some of 'em didn't. It is what it is," Lightfoot said. "I can't control them. All I can control is what I do. It's hard to have a competitive spirit (in all-star games) because you are letting people get layups — not me, obviously. We (team) were letting a couple people have layups and dunks. That's not how I play."
How does he play and prepare? Like the official website writer said — in a serious fashion.
"Six days a week lifting with a strength trainer after school — Saturday mornings lifting, trying to get my body right so when I get out there (KU) I can perform," Lightfoot said. "Once you see the benefits, it (lifting) gets addicting. Lifting, eating right. One thing I did realize from the all-star game is that I felt stronger, better controlling my body, being able to move players out of the way, elevate quicker. Coaches who watched the game were telling me I looked a lot better."
Asked if his 32-point all-star outing, which followed a senior year in which he averaged 22.6 ppg, showed he's a "scorer," Lightfoot said ...
"Honestly I don't want to be known as a scorer. I want to be known as someone who does whatever it takes for the team to win, whether it's playing defense, taking charges, helping others get better," he said.
Off the court, Lightfoot spent part of his senior year volunteering for an assisted-living facility and served as a mentor for students at an elementary charter school.
"We just got done going to an underprivileged school and helping kids, organize field days and stuff like that," Lightfoot said. "I know we have a bunch of volunteer stuff at KU. I'm looking forward to that."
A person who said he "loved" his senior year of high school, Lightfoot could conceivably be in contention for valedictorian of his class.
"I don't think so," he said with a laugh. "At my school we have some geniuses. My GPA, 3.83 (out of 4) ... it's hard to compete with people that are getting 4.4s and 4.5s," he said. "It's going to be hard to say goodbye to everybody (when he leaves for KU a day or two after June 2 graduation), but at the time it will be fun to see where they (classmates) all end up (in life)."
Of his future at KU, he said: "(I'm) living a dream. I got my foot in the door. Once my foot is in the door, anything is possible. I'm going to work my butt off."