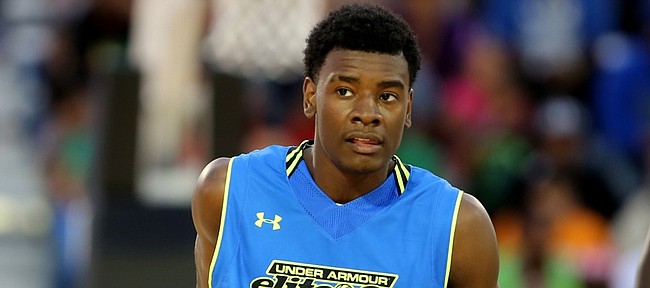 Wayne Selden Jr.'s decision to enter his name in the NBA Draft and hire an agent means that Kansas University must replace a starting wing in Selden and a go-to scorer in Perry Ellis.
That paves the way for one player who would fill both roles as a starter from Day 1. Josh Jackson, the No. 1-ranked basketball recruit in the nation, plays on the wing and will be a go-to scorer from Day 1 of his college career, regardless of his college choice.
Jackson told reporters Tuesday in Chicago, site of tonight's McDonald's All-American game, that he has made his college choice, but added he does not anticipate announcing it until after the Hoop Summit, which will be played April 9 in Portland.
A high-flying 6-foot-7 perimeter player with a strong handle, Jackson still lists Arizona, Kansas and Michigan State as possibilities.
Jackson, who seems on video to have a friendly manner and enjoys doing interviews, shared with Krysten Peek of Rivals.com his thoughts on his official visit to Kansas.
"When I stepped in the gym, it was the loudest gym I'd ever been in in my entire life," Jackson told Peek. "The whole time I was thinking, 'Man, I would hate to be the opposing team, but I would love to be playing for Kansas right now.' One major thing is their fans. Their fans are amazing, probably the best fans in college basketball."
In just about all of his interviews, Jackson talks about how he wants a coach who will drive him relentlessly.
"The coach, coach (Bill) Self, he's a great coach," Jackson told Peek. "He coaches players really hard, pushes them, makes them better."
Jackson grew up in Michigan and has gone to school in California the past two years. ESPN analyst Fran Fraschilla referred to him on Twitter as a "major talent with a 'Kevin Garnett motor.' "
Peek also interviewed Kansas oral commit Udoka Azubuike, a 6-foot-11, 260-pound Nigerian center living in Jacksonville, Fla. Azubuike told Peek he had spoken with Jackson about Kansas at practice.
"He said it's between Michigan State and Kansas," said Azubuike, who did not mention Arizona. "But I told him that we need him and we want him and I'd like to play with him. And he said, pretty much, he'd like to play with me."
Jackson is on the record saying he wants to play at a fast pace in college, and from watching his video it's easy to say why. He can fly with or without the ball. In Frank Mason and Devonté Graham, Jackson would join one of the fastest backcourts in the nation, as well as one of the most experienced.
Azubuike said he also talked to Terrance Ferguson, a wing from Dallas ranked No. 12 in the nation, about Kansas as well, and was told by Ferguson that he needed more time to think about his decision.
Jackson shared his feelings about Michigan State with the Detroit Free Press in a video.
"I love Michigan State," Jackson told the Free Press. "I actually grew up a State fan. Even if I decide not to go to Michigan State, they'll always be in my heart and I'll always be a fan of them and coach (Tom) Izzo."
Power forward Jarrett Allen of Austin also has Kansas on his list, but is thought to be leaning toward hometown Texas.
Depending on how all the departures and arrivals shake out, Kansas, which finished with a 33-5 record and was the No. 1 overall seed in the NCAA Tournament, could head into next season with an even more talented, deeper roster. KU never has to rebuild. It always reloads.