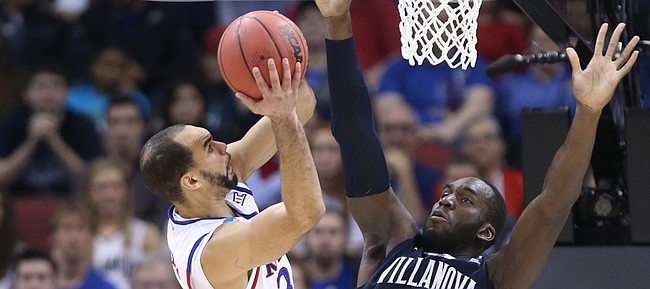 Even as much as they were hurting for themselves, because their team had just ended its season a couple of wins short of the ultimate goal, several members of the Kansas University men's basketball team found a deeper level of hurt for the way senior forward Perry Ellis went out.
Ellis, the team's leading scorer, model citizen and All-American in the eyes of just about every coach who ever had to face him, finished his career with a rougher-than-ever four-point night on 1-of-5 shooting in a 64-59, Elite Eight loss to Villanova on Saturday in Louisville, Ky.
Just like that, a stretch during which Ellis played some of the best basketball of his life — both offensively and defensively — came to a screeching halt in such unspectacular fashion.
Two nights earlier, Ellis exploded for 27 points in a victory over Maryland in the Sweet 16. Ellis dominated large stretches of that game and finished with the most points he ever had scored in an NCAA Tournament game. Against Villanova, which made him the focal point of everything it did defensively, Ellis scored a season low and tallied a point total he had eclipsed in 99 of 107 games since becoming a full-time starter as a sophomore.
"You know, it's tough," said junior Landen Lucas, Ellis' frontcourt mate. "It's unfortunate. I wish it could've been better. But credit to (Villanova). You know, it's not always gonna be the perfect ending."
For most Jayhawks, the memories they'll choose to retain of their time with Ellis will focus on his fun-loving demeanor, fiery competitive drive and consistent work ethic and production.
"He's just a great guy, and he's fun, and I just enjoy his personality," Lucas said. "He doesn't do much. He just lets his game do the talking. I'm gonna miss him."
Added freshman guard Lagerald Vick: "I just appreciate that I got the opportunity to play with him, especially the leadership he showed the team and the things he taught me as a freshman, just embracing the things that coach Self said, stuff like that. And he was always in attack mode and aggressive."
For other, now-former Ellis teammates, such as freshman forward Carlton Bragg Jr., reflections of the time they spent with Ellis will serve as motivation for their own futures.
"Yes, very special," said Bragg of his bond with Ellis. "I (was) coming in as a freshman just like Perry was (in 2012), and I'm trying to follow in his footsteps. We'll see what happens."
Asked what he thought his biggest improvement was during the home stretch of the 2015-16 season that might serve as a springboard for a bigger sophomore season, Bragg explained how he felt more comfortable every time he went out on the floor.
"Just the whole adjustment, coming from high school to college and just playing my role," Bragg said. "I think I'm gonna have a bigger role next year."