Louisville, Ky. — Just a freshman, Frank Mason III made a key blunder on Villanova's shot heard 'round the Bahamas back in 2013.
It was a mistake on a game-winning three by current 6-foot-3 'Nova senior Ryan Arcidiacono that haunted the Jayhawks' guard for a long time.
"It stuck with me a few weeks. I was really thinking about it, that it was my fault. As a freshman, I didn't know what to do. I think I came back stronger, locked in and have paid more attention to detail since then," said the 5-foot-11 Mason, who watched helplessly as Arcidiacono cashed a three with 10 seconds left. The trey erased a one-point KU lead in the unranked Wildcats' 63-59 victory over then-No. 2-rated KU in the semifinals of the 2013 Battle for Atlantis tourney.
The media peppered the Jayhawks with questions about that game on Friday, eve of Saturday's NCAA Tournament South Regional Elite Eight contest between KU (33-4) and Villanova (32-5). Tipoff between the regional's 1 and 2 seeds is set for 7:49 p.m. Central time in KFC Yum! Center.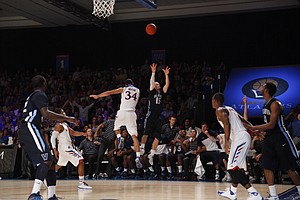 Photo Gallery
Kansas and Villanova press conferences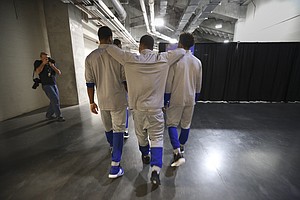 The Jayhawks and Wildcats talk with media members on Friday before Saturday's Elite Eight matchup.
Mason remembers exactly where he erred in the Bummer in the Bahamas.
"I had a pretty decent game (12 points). Coach left me in as a freshman. We had a rule where you can't show on out of bounds, you don't help out of bounds," Mason recalled. "I kind of helped another teammate, on his guy. I lost 'Archie.' He went out on a double screen and knocked the shot down, and they won the game."
Older and wiser, junior point guard Mason is smart enough to realize talk of a game two seasons ago is just that: talk.
Today's game is for a spot in the Final Four.
"It doesn't mean anything now. We have bigger things to focus on, and that's tomorrow's game," Mason said.
Rest assured, KU will be prepared for today's contest.
The Jayhawks, since the Iowa State game in Ames many moons ago, have not only had official meetings with the coaches to discuss opponents' personnel and strategy, but also regularly meet among themselves.
For example, the guards on the late January trip to Iowa decided to get together as a group about a half hour before an official scouting-report meeting with coach Bill Self and his aides.
"We call it 'Guard Talk,'" sophomore Devonté Graham said of meetings that include the guards, plus forward Jamari Traylor simply because he's roommate of guard Wayne Selden Jr., who hosts the sessions.
Podcast episode
Kansas basketball coach Bill Self, as well as players Perry Ellis, Wayne Selden Jr. and Frank Mason III answer questions from the media in Louisville, Kentucky, the day before their Elite Eight matchup with Villanova. Self and the Jayhawks get into the details of their NCAA Tournament success this year ...
"We get scouting reports, so we go over personnel, see what these guys like to do, make sure guys are quizzing each other on if this guy likes to go right more or left more, what's his favorite move or things like that," Graham added.
You can bet the Jayhawks will be discussing players such as 'Nova guards Arcidiacono, Jalen Brunson and All-Big East player Josh Hart, who have led the Wildcats to three NCAA Tourney blowouts over UNC Asheville, Iowa and Miami. Villanova has made 97 of 162 shots for 59.9 percent and has 61 assists on those field goals. 'Nova has converted 33 of 62 threes for 53.2 percent. Arcidiacono is averaging 17.0 ppg off 65.4 percent shooting in the tourney.
"It was Frank's idea," Selden said. "We do scouting report every night as a team, but the guards meet before. We do it to key in on stuff and focus even more and get more in-depth and have everybody on the same page."
As far as Traylor's role, Selden said: "It's helpful for him, too, because there are times he can be guarding guards, because we'll switch."
It's mind-challenging work, Traylor said, indicating the only thing going on besides discussing strategy might be munching on snacks.
"But it's pretty much serious business," he assured.
The leader of the pack, Mason, explained his role in organizing the guard meetings.
"I know how important it is with it being one game at a time," Mason said. "I decided to get the guards together an extra 15, 20 minutes before we head down to scouting report with the coaches, really go over everything and question 'em and make sure they know everything on the scouting report because they really need to know it during the game.
"I wanted to make sure we know what to do so we can execute better and give ourselves the best chance to win. It's worked for us."
There might be a slight chance Mason mentions something besides strategy during the pre-Villanova guard meeting. And also at official team meetings. Freshman Carlton Bragg Jr. said Mason and Selden have been quite vocal, especially of late.
"They did get the last win," Mason said of Villanova's win over KU at Atlantis resort. KU leads the all-time series 3-2, including a 72-57 win in the 2008 Sweet 16 in Detroit. "I think our guys take pride in winning games. We want to come out more focused and give us every chance to win the game."
---
https://www.youtube.com/watch?v=o5iLoSW3Be4
---
https://www.youtube.com/watch?v=xqiP7qDtoH8
---
https://www.youtube.com/watch?v=ltzLgJQWuOo