Louisville, Ky. — NBA scouts will scribble furiously, tracking signs of flaws and potential strengths of several of the players competing in tonight's South Regional semifinal pitting No. 5 seed Maryland against top seed Kansas University.
Draftexpress.com projects four Maryland players, all starters, going in the first two rounds of the NBA Draft: 22. freshman center Diamond Stone; 33. sophomore point guard Melo Trimble; 43. senior small forward Jake Layman; 50. junior power forward Robert Carter.
The same website projects three KU draftees: 34. reserve Cheick Diallo; 39. Wayne Selden Jr.; 58. Perry Ellis.
Yet, the most pivotal player in tonight's talent showcase just might be the last player to make his way off the bench into the lineup as a permanent starter. Kansas center Landen Lucas can't be found on any mock drafts, but if he keeps playing the way he has of late, he'll make his presence felt by future pros.
Photo Gallery
Kansas and Maryland practices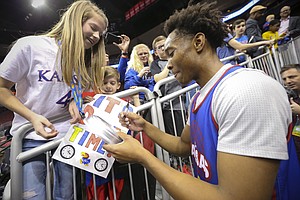 The Jayhawks and Terrapins practice on Wednesday at the KFC Yum! Center in Louisville.
Maryland ranks as the fourth-tallest team in the nation and the tallest in the Sweet 16. They start three players (Carter, Layman and Stone) who measure 6-foot-9 or taller. The Terps also feature wider bodies than the Jayhawks.
Lucas, a fourth-year junior from Portland, Ore., who didn't join the starting lineup until midseason, represents KU's best chance to compete with Maryland in the paint.
If Lucas can produce another big game on the boards, play rugged defense without encountering foul trouble and block a shot here and there, it's difficult to envision a path to victory for Maryland, which isn't as dangerous in transition as Kansas.
Lucas never has been one to shy from a challenge, which explains why he chose to compete for playing time at a school noted for recruiting multiple elite big men on an annual basis. It explains why he never stopped trying to crack the rotation when lesser competitors would have transferred to less talent-rich environments to make it onto the court.
"They're very talented," Lucas said. "They have a lot of bigs with great size, very skilled around the hoop. They're good. It's going to be a fun challenge. We're going to be going at it. There's definitely a lot of talent on both sides. It's going to be fun."
Podcast episode
Kansas basketball coach Bill Self answers questions at a Sweet 16 press conference, with topics ranging from Maryland coach Mark Turgeon, KU's postseason successes and failures of late and much more.
Lucas doesn't have a cocky bone in his 6-10, 240-pound body, but he doesn't lack confidence, either. It has grown at the same rate as his production.
"We like hearing how much talent they have because it's a challenge to us to go out there and show how good of a team we are," Lucas said.
He has produced double figures in rebounds six times, including a 12-rebound effort with three blocked shots in the second-round victory against UConn. His top back up, senior Jamari Traylor, was scoreless in 28 minutes in the two tourney games in Des Moines, Iowa. More important given his role, Traylor totaled 11 rebounds and five blocked shots in the two games.
Podcast episode
Kansas basketball players Jamari Traylor and Devonté Graham meet with media members before the Jayhawks' Sweet 16 matchup with Maryland, in Louisville, Kentucky. Traylor and Graham discuss the importance of KU having so many veterans, and many other topics.
"There are blocked shots and then there are BLOCKED SHOTS," Lucas said. "It's the way Jamari blocks shots that makes them contagious."
Freshman Carlton Bragg Jr.'s ability to pull his man away from the hoop and his improving offensive rebounding could come in handy in stretches. Depending on foul trouble, freshman Cheick Diallo (nine points, four rebounds, a blocked shot against Austin Peay) might even get a call, even though he didn't play vs. UConn.
Diallo said he improves daily in practice.
"I never let it go," Diallo said. "I develop my game. I develop my post moves. I develop my shooting. I never let down just because I'm not playing a lot in games."
Podcast episode
Maryland coach Mark Turgeon on facing his alma mater in the Sweet 16.
Tournament experience, even though it came against an Austin Peay squad that in no way resembles Maryland, can't be a bad thing in the event Diallo is needed.
"As coach said, 'Cheick, go!' I was not even nervous," Diallo said of the Austin Peay game. "I was so excited to play."
As a freshman, Cole Aldrich had a coming-out party against North Carolina. Might Diallo have his against Maryland?
If Lucas can avoid foul trouble, another area of improvement, Diallo might not be needed.
During Big 12 play, Lucas had five consecutive games in which he committed four or more fouls. He has committed three or fewer fouls in eight of nine games heading into tonight's.
"Really, it's just getting a sense early on what kind of game it's going to be from the refs," Lucas said. "So you have to adjust quickly. On top of that, if their guards get into the lane, just try to stay vertical. They're letting us play if you can stay vertical. That's big for me. If they initiate the contact, that's a big emphasis this year, it's not a foul on you. You can absorb as much as you can as long you can stay vertical. Then try to time it and get the ball (block the shot) later on."
Lucas doesn't need to score a point to play a huge role in a victory. He can have a huge impact on the game by not letting Carter and/or Stone have big games on the boards and the scoreboard.
---
https://www.youtube.com/watch?v=jY2jlg4hlG8
---
https://www.youtube.com/watch?v=JgXIhr34ebY
---
https://www.youtube.com/watch?v=gLoRldvCTBI
---
https://www.youtube.com/watch?v=hgQOiXMNVuc
---
https://www.youtube.com/watch?v=6-vp-EGzZNk