Louisville, Ky. — There was a lot of talk about point guards, past and present, in KFC Yum! Center on Wednesday, eve of today's NCAA South Regional matchup between No. 1 seed Kansas University and No. 5 Maryland.
"Am I scoring right there? Take that, 'Turg,'" KU coach Bill Self exclaimed with a smile, looking at an iPad video of his converting for Oklahoma State against KU in the 1980s against current Maryland coach Mark Turgeon's Jayhawk team.
"That was a beautiful move, too," former Cowboy lead guard Self added of his taking it to the hole against former KU point Turgeon. "I wonder how long they had to edit tape to find that."
Photo Gallery
Kansas and Maryland practices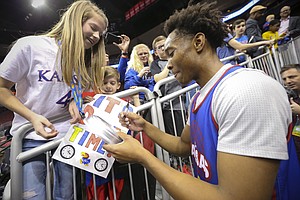 The Jayhawks and Terrapins practice on Wednesday at the KFC Yum! Center in Louisville.
A lot longer than it would take somebody to find footage of the point guards who will take the court for KU (32-4) and Maryland (27-8) approximately 8:40 p.m. today.
Maryland's Melo Trimble and KU's Frank Mason III both earned second-team all-league honors in their respective conferences, the Big Ten and Big 12.
Trimble, a 6-foot-3 sophomore, is the Terps' leader in scoring (14.8 ppg), assists (174), steals (43) and free-throw percentage (.879). Mason, a 5-11 junior who said he likely will open on Trimble (instead of fellow KU combo guard Devonté Graham, who stands 6-2), is first on KU's team in assists (167), second in steals (47) and third in scoring (12.8).
Podcast episode
Kansas basketball coach Bill Self answers questions at a Sweet 16 press conference, with topics ranging from Maryland coach Mark Turgeon, KU's postseason successes and failures of late and much more.
Trimble is still a bit more well known nationally, having been ranked No. 39 in the Class of 2014 by Rivals.com, compared to late-bloomer Mason's No. 76 rating.
"I usually don't pay attention to the hype. I pay attention to what we can control as a team, as a group. I pay attention to scouting report, pay attention to detail," Mason said Wednesday before a short shootaround in Yum! Center.
And KU's current scouting report confirms Trimble is a handful to control.
Podcast episode
Kansas basketball players Jamari Traylor and Devonté Graham meet with media members before the Jayhawks' Sweet 16 matchup with Maryland, in Louisville, Kentucky. Traylor and Graham discuss the importance of KU having so many veterans, and many other topics.
"He's a good guard. He's quick, good with the ball, good off ball screens," Mason said. "He's a good overall player. It's fun to guard good players, just to compete. It's an all-around fun game. I can't wait to get out there."
Mason confirmed it'd be a difficult assignment, but one he looks forward to.
"They have a lot of different actions, but it definitely will be me to start out," he said of being assigned to guard Trimble. "It could be anyone from there because of the different things they do. It depends what they will be running. I think most of the game I definitely will have him."
Podcast episode
Maryland coach Mark Turgeon on facing his alma mater in the Sweet 16.
Self said Mason vs. Melo is a dandy confrontation between elite college lead guards.
"Can Frank do a good job on Melo, because when Melo is on top of his game and when he's in attack mode and he's playing with ease, he's as good as any guard in the country?" Self said. "It will be a great matchup for Frank. It will be a great matchup for Melo, too, because both have to guard each other. It's just not a one-way street."
Mason downplayed some nagging injuries: "My (bruised left) foot only bothers me when I sit around or get still. If I'm laying around, it's sore to walk on. When I get treatment and tape, I'm good on the court."
He said this obviously is more than a Mason-Melo matchup.
"There are good guards on both sides," said Mason, whose backcourt partner, Graham, has 137 assists this season, just 30 fewer than Mason, while averaging 11.4 ppg. Maryland counters with 6-4 guard Rasheed Sulaimon (124 assists, 11.1 ppg). The Terps have a plethora of big men in 6-9 Robert Carter, 6-11 Diamond Stone, 6-9 Jake Layman and 6-11 Damonte Dodd.
"They've got good bigs. We've got good bigs. It'll come down to who wants it more and who executes the game plan and pays attention to it," Mason said.
Mason spent a great deal of time Wednesday talking about his buddy, Dodd, a 6-11, 250-pound Terp junior. Dodd was Mason's roommate at Massanutten Military Academy in Virginia.
"He was my guy back in prep school," Mason said, smiling. "We text a few times. We Facetime a few times. He called me a couple days ago. We didn't talk too much, but I had a chance to talk to him. It's a good feeling to get a chance to play against my old prep school teammate in the Sweet 16."
Mason recalled the two having to rise out of bed at 5:50 every day for marching and drills.
"It wasn't terrible. It made me a better person," Mason said. "Back then I used to complain about it a little bit."
Seems they didn't even need to use the buddy system to make sure they were up and at it and never late.
"Most of the time we had a bell that rung every morning. That pretty much did it," Mason said.
Kansas' Wayne Selden Jr. played AAU ball with some of the Terps, including Layman, who averages 11.7 ppg and 5.3 rpg and Jaylen Brantley (2.4 ppg off bench).
"They are a very good team. We want to play the best," Selden said. "It's going to be a good game. It will come down to who wants it more. I think this is the most focused I've been in my career," the junior added. "When you want it so bad, you are willing to focus. No outside distractions. I'm locked in. I think we all are. I feel we have a special group. We don't want to leave this saying, 'What if?'"
Meanwhile, focusing back on the coach/point guard discussion, Self, who helped coach Turgeon when Self was a member of Larry Brown's staff during the 1985-86 Final Four season, said, "Turg was a good player. He wasn't very big, but he got all the talent out of that 5-10, 160-pound frame he possible could.
"His teams are sound. He's very clever in how they use their personnel. He's a terrific coach, an elite coach and has Maryland playing extremely well. This is a hard matchup because we really think a lot of their team."
Tonight's winner advances to Saturday's Elite Eight game against Villanova or Miami.
---
https://www.youtube.com/watch?v=jY2jlg4hlG8
---
https://www.youtube.com/watch?v=JgXIhr34ebY
---
https://www.youtube.com/watch?v=gLoRldvCTBI
---
https://www.youtube.com/watch?v=hgQOiXMNVuc
---
https://www.youtube.com/watch?v=6-vp-EGzZNk