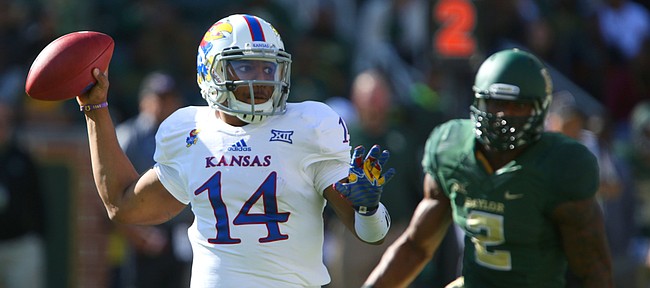 Wednesday afternoon, after almost an entire year away from football, former Kansas University quarterback Michael Cummings was back on the turf throwing passes.
Cummings, who was injured and lost for his senior season during last year's spring game in late April, was one of 11 former Jayhawks participating in KU's annual pro timing day in front of a handful of NFL scouts. And, given the fact that he had spent most of that time rehabbing from knee surgery, Cummings fared pretty well in the various combine-style drills designed to test everything from speed and strength to intelligence and agility.
Weighing in at 5-foot-9, 225 pounds, Cummings ran a 4.68-second 40-yard dash and completed 21 reps of 225 pounds on the bench press while displaying a 29-inch vertical.
Cummings was not the fastest or the strongest or most athletic former Jayhawk to participate on Wednesday, but second-year KU coach David Beaty said he was happy to see the perseverance of the former Kansas QB who never truly got the chance to play for him.
"It was great to see Mike back out on the gridiron today," Beaty said. "I think I saw one ball hit the ground in all his throws. The kid has something to him that I haven't seen in many before. I know he had a great showing, and I know that somebody is gonna have a great surprise show up to camp."
As expected, a pair of defensive linemen stole the show in the bench press. Former Miami Hurricane Corey King, who played one season at Kansas, measured 6-1, 282 and ripped off 32 reps in the bench. He was outdone only by former walk-on T.J. Semke, 6-1, 250, who recorded 37 reps, three more than any player at the NFL combine back in February.
Semke also jumped 32 inches and ran a sub-5-second 40-yard dash, putting him in the top five in both categories.
In the most popular category at most pro days, former wide receiver Tre' Parmalee ran the fastest 40 time, clocked at 4.53 seconds. Five other Jayhawks, Cummings and Semke, running backs Taylor Cox (4.63) and De'Andre Mann (4.57) and cornerback Ronnie Davis (4.6) also ran times faster than 5 seconds.
Mann had one of the best days of the bunch. His 38-inch vertical was the best mark registered, and he finished second in the broad jump (10 feet, 3 inches), third in the three-cone drill (7.06 seconds) and third in the shuttle drill (11.63 seconds).
PRO DAY RESULTS
Name Bench Vertical Broad 40 3-cone Shuttle
QB Michael Cummings 21 29 — 4.68 — —
RB Taylor Cox 18 37 9-7 4.63 7.33 11.94
CB Ronnie Davis 7 34 9-4 4.60 6.91 11.47
DL Kapil Fletcher 18 27 8-8 5.46 7.78 —
DE Ben Goodman 14 30 8-11 5.01 7.11 12.53
OL Keyon Haughton 21 31 9-3 5.37 7.63 —
DL Corey King 32 29.5 8-4 5.23 7.33 —
RB De'Andre Mann 23 38 10-3 4.57 7.06 11.63
OL Larry Mazyck 19 27 7-5 5.63 — —
WR Tre' Parmalee 9 36.5 10-5 4.53 6.83 11.35
DL T.J. Semke 37 32 9-2 4.95 7.14 12.03