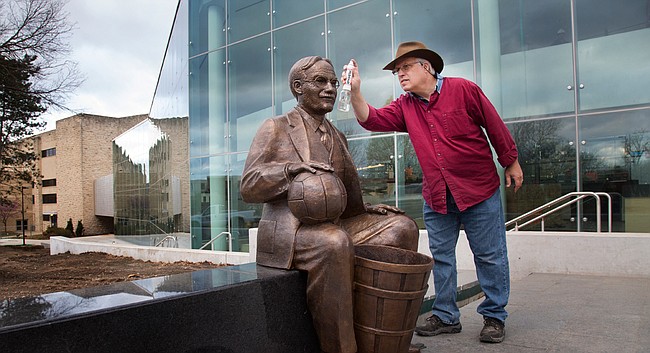 Of the beloved Elden Tefft sculptures on the Kansas University campus, this one — completed after the artist's death — stands to become the favorite of many students and visitors alike.
A bespectacled bronze likeness of James Naismith, inventor of basketball, now sits on a bench outside KU's DeBruce Center.
There's two peach baskets stacked between his feet, a ball perched on his knee, and plenty of room on the bench for fans to take pictures sitting next to him.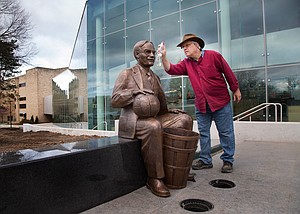 Installed Wednesday morning, Tefft's sculpture welcomes visitors to the soon-to-open DeBruce Center, being constructed to house Naismith's original handwritten rules of "Basket Ball." The building, at 1647 Naismith Drive connected to Allen Fieldhouse, is planned to open by late April.
Though the new sculpture is firmly in place, it isn't yet viewable by the public. The sculpture will be covered until the DeBruce Center opens to protect it from construction work, according to the KU Endowment Association.
Tefft was the KU professor emeritus who also sculpted the Academic Jay perched in front of KU's Strong Hall and the monolithic Moses kneeling before Smith Hall, in addition to several other bronze portraits on campus.
He died Feb. 17, 2015, at age 95 — leaving the Naismith sculpture incomplete.
Others stepped in to finish the job: Tefft's son and apprentice Kim Tefft doing the hands-on work and Tom and Kathy Wiggans donating the money to fund it.
Even with no commission from KU, Elden Tefft imagined more than a decade ago that the university ought to have such a sculpture, his son told the Journal-World last summer. He conceived the idea around 2001 or 2002 and started working on it in earnest around 2004.
"He was one that would always start a project often times without necessarily having a buyer," Kim Tefft said of his father. "It was just a good idea, and he wanted to do it. He always imagined that KU would be one of the first places to get the Naismith statute, but he had three places in mind."
In fact, KU will be the third to install a Naismith sculpture created from the same model. The other two are located at Springfield College in Springfield, Mass., where Naismith worked when he created the game of basketball, and Almonte, Ontario, Canada, where Naismith was born.
KU's sculpture completes "the international tri-memorial," Tefft told the Journal-World last summer.
At 57 inches tall, the seated Naismith is slightly larger than life — but much heavier, according to stats provided by KU Endowment. The sculpture weighs in at about 322 pounds.
"My father wanted a piece that would carry itself in an outdoor environment," Tefft said. "You want something larger than life-size for that. At the same time he wanted it intimate enough that people could interact with it, sit beside it, get their pictures taken."
Elden Tefft earned bachelor's and master's degrees at KU and taught at the university from 1950 to 1990. He built the first "lost-wax" foundry on a university campus at KU, enabling artists to complete the creation and casting process themselves from beginning to end and making KU a teaching center for the method.
Naismith worked at KU for close to 40 years.
KU hired him in 1898 as chapel director, director of physical education and university physician, according to KU. He coached the KU basketball team from 1899 to 1907, and also became KU's first athletic director.
Naismith died in 1939 and is buried at Memorial Park Cemetery in Lawrence.
The Wigganses live in Atherton, Calif., according to KU Endowment. Tom Wiggans is a 1975 KU graduate, who got his bachelor's degree in pharmacy here, and a member of the KU Endowment Board of Trustees.
KU alumnus David Booth and his wife, Suzanne Booth, purchased Naismith's 1891 rules of "Basket Ball" at auction in 2010 for $4.3 million.
In addition to the rules and historical displays about Naismith and legendary KU basketball coach Phog Allen, the $21.7 million DeBruce Center will offer a cafeteria, student lounge, gift shop and event space.
— Journal-World reporter Nick Krug contributed to this report.
Have a tip or story idea?
---
More stories