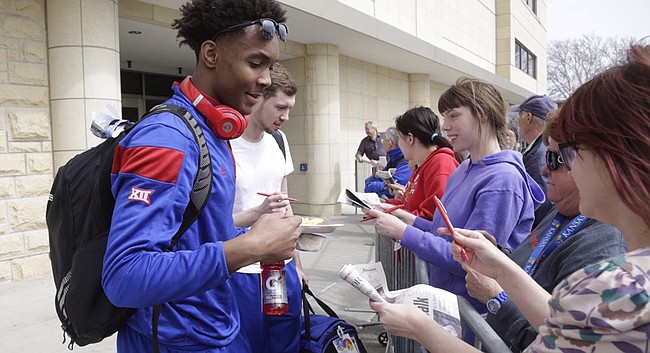 Kansas University basketball fans bound for Louisville are in for a long drive but should find a lot to do once they arrive in this colorful and historic Kentucky city, located on the Ohio River.
Here's what you need to know about the game, the KU Alumni Association fan events and things to do in downtown Louisville.
Game time
KU tips off against the Maryland Terrapins at approximately 9:40 p.m. (Eastern Time) Thursday. Maryland — coached by former KU basketball player Mark Turgeon (1983-87) — is the No. 5 seed in the NCAA Championship South Regional bracket.
KU plays the second game of the night in Louisville; Miami v. Villanova starts at 7:10 p.m. (Eastern Time).
The winners of each game will face off on Saturday in Louisville, time TBA.
For full KU basketball coverage, stay tuned to KUSports.com.
Venue
KFC Yum! Center, 1 Arena Plaza, Louisville, Kentucky.
A few facts about KFC Yum! Center: Capacity is 22,090, and in addition to hosting entertainers and other sporting events, the arena is the official home of the University of Louisville men's and women's basketball programs.
Open practice
Fans can watch the Jayhawks warm up from 3:10 p.m. to 4 p.m. Wednesday at KFC Yum!, according to associate athletics director Jim Marchiony.
The drive from Lawrence
It's going to take a lot longer than it did to get to Des Moines. Louisville is 8 hours 15 minutes, via Interstate 70 and Interstate 64 east, according to Google maps.
Tickets
KU does not have any tickets available for the public, Marchiony said.
According to the KFC Yum! Center, tickets can be bought and sold directly with other fans through the official NCAA Ticket Exchange.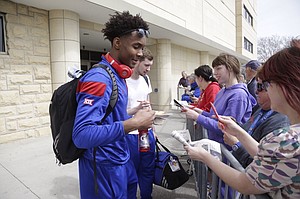 Pre-party and pep rally
Where KU goes, the KU Alumni Association party follows.
Thursday's pre-game party is set for 3:30 p.m. to 6:30 p.m. (Eastern Time) in Cascade A, B and C rooms of the Kentucky International Convention Center, 221 S. Fourth St. in Louisville, about a block south of the arena. (Use the Market Street entrance.)
A pep rally featuring the KU spirit squad is set for 6:15 p.m., so fans who want to watch the early game have time to get there afterward.
Watch party
The KU Alumni Association lists as an official Louisville watch site the Buckhead Bar and Grill, 3020 Bardstown Road. The game will be televised on CBS.
Weather
Pack an umbrella. The National Weather Service predicts highs in the 50s and 60s for the weekend, with an 80 percent chance of rain and thunderstorms on Thursday.
What else to do in Louisville
Think Louisville, think bats and bourbon, right?
Right. (For now, at least. The famous Kentucky Derby also happens there, but not until May.)
About five blocks west of the KFC Yum! Center on Main Street you'll find the Louisville Slugger Museum and Factory, open daily (look for the giant bat).
On the way is the Evan Williams Bourbon Experience, at Sixth and Main streets, where you can tour an operating artisanal distillery, learn about Kentucky bourbon history and — yes — try some if you're old enough.
Bourboncountry.com suggests the best bars for tasting — via an "Urban Bourbon Trail" booklet and app — as well as other distilleries in the area. The featured exhibition right now at the Frazier History Museum, also downtown at 829 West Main St., is called "Spirits of the Bluegrass: Prohibition and Kentucky."
Downtown Louisville also is home to the Louisville Riverwalk and Waterfront Park along the Ohio River, the Muhammad Ali Center, the Kentucky Science Center and plenty of restaurants.
Have a tip or story idea?
---
More stories