Des Moines, Iowa — Still standing after playing a team-leading 1,131 minutes in Kansas University's 34 basketball games, Frank Mason III took inventory of his current aches and pains Wednesday in Wells Fargo Arena.
"I'm feeling good. My hip is a little sore. My foot is a little sore. I'm continuing to get treatment. It's getting better," said the 5-foot-11, 185-pound junior guard from Petersburg, Va., who deems himself physically fit for today's 3 p.m., NCAA South Regional opener against Austin Peay.
Photo Gallery
Kansas and Austin Peay practices and press conferences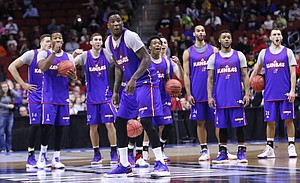 The Jayhawks and Governors practice on Wednesday at Wells Fargo Arena before meeting Thursday in their opening round of the NCAA tournament.
"Coach really wants me out there. My teammates really need me out there. Whatever it takes to keep everyone happy and give us the best chance to win, I'm willing to do," added Mason.
He — some might say miraculously — played 38 minutes in Saturday's 81-71 Big 12 tournament title victory over West Virginia despite suffering a severe bone bruise in his left foot during his 34-minute stint Friday against Baylor.
Mason's right hip, which has bothered him off and on for some time now, hasn't cut into his 33.3-minute-per-game average.
It also hasn't affected his willingness to take the ball to the hoop, where he's often knocked to the floor by opposing big men.
And it hasn't lessened his desire to jump on loose basketballs whenever possession is in doubt.
Does Mason ever watch replays of times he has been knocked down but not out?
"I don't," Mason said. "I hear it from the fans, my teammates, things like that. They're always saying I'm on the floor. It's the only thing I really hear," added Mason, who laughed and said, "no," when asked if he ever wears football equipment at practice for protection.
Podcast episode
Kansas basketball coach Bill Self goes through an afternoon press conference at Wells Fargo Arena, in Des Moines, the day before the Jayhawks open the NCAA Tournament against Austin Peay. Self says KU has been playing loose and with confidence for some time now, heading into the most pressure-packed time ...
Mason's backcourt partner — Devonté Graham, who, by the way, is right behind Mason in minutes played at 1,108, or 32.6 per contest — says Mason only knows how to play one way: fearlessly.
"He doesn't fall as much as he does in games," Graham said of Mason in practice sessions. "He definitely flies in there to the paint and finishes. You can't really explain it. People think he's so small. When he goes in there, it's like, 'What is he doing?' He's strong. He can finish above 6-10, 7-foot. The things he does in his body is pretty amazing."
Count senior forward Perry Ellis, the squad's scoring leader (16.7 ppg; Mason is third at 13.1), as one who marvels at Mason's penchant for falling to the floor but hopping right back up.
"The plays he makes sometimes driving to the basket ... it's pretty awesome to see," Ellis said. "Some of the plays he makes when he's doing those are game-changing plays.
"He's an aggressive guy. He has a competitive nature about him. He is willing to compete. Whenever he's playing, you can see it in his face to where he wants to get something done or make a play."
The younger players are always willing to follow interchangeable guards Mason, who is more a leader by example, and Graham, a bit more talkative in games.
"I think he's the key to our team," sophomore Svi Mykhailiuk said of Mason. "He's our point guard. He's our head. A lot of things depend on how he plays."
Mason's ability to give and take a hit can be contagious.
"I mean, you've got a win/win situation," said freshman guard Lagerald Vick, who guards Mason some at practice. "He wants to win. He also does it for the team. I think it's in his blood to play like that."
KU coach Bill Self — who was shocked to hear Mason say he might not be able to play Saturday vs. West Virginia but not shocked to see him ultimately go 38 minutes on his sore foot — sometimes teases Mason about rubbing his neck repeatedly before going to the free-throw line in a Feb. 23 win at Baylor.
Yet KU's coach, who is big on toughness, only has respect for the sparkplug guard.
"He doesn't always play great," Self said, "but there's nobody tougher. Nobody. He's about as competitive as anybody we've had here."
Mason's goal now is to lead overall No. 1 seed KU (30-4) to a win over No. 16 seed Austin Peay (18-17) today, then bag another victory over UConn or Colorado on Saturday for a spot in Thursday's Sweet 16 in Louisville.
No. 1 seeds are 124-0 versus No. 16 seeds.
"We obviously don't want to be that team to make history and lose to a 16 seed," Mason said. "So we just have to focus in on the game plan and give ourselves the best chance to win."
Podcast episode
Kansas Jayhawks Frank Mason III and Landen Lucas answer questions from the media at Wells Fargo Arena, in Des Moines, the day before the Jayhawks — the No. 1 overall seed in the NCAA Tournament — face Austin Peay.
"History might be on our side. You can't bank on that. That doesn't have anything to do with the present," Graham said. "There's no pressure, I don't think. Coach keeps preaching, 'Don't get into the pressure. Keep playing free and loose and have fun. Just go out, play and have fun.'"
Austin Peay is led by senior forward Chris Horton, who averages 18.9 points and 12.0 rebounds. He has hit 60.4 percent of his shots. Sophomore guard Josh Robinson averages 16.7 ppg and has made 69 threes. KC native Khalil Davis has a team-best 97 assists.
"They have active guards, shoot the ball well and have an inside presence," Graham said. "We've got to keep them off the glass, prevent them from getting easy buckets, run them off the three-point line."
To Mason, the victory formula in Des Moines is simple, really.
"Play every possession like it's your last," Mason said. "Don't leave the court with any regrets. Doing everything you did to this point will give us a good chance to keep going in the tournament.
"If you have confidence in anything, you do have a chance to be successful. I tell the guys, 'Be confident in yourself, believe in each other.' Having a lot of confidence going in the games really helps us out."
---
https://www.youtube.com/watch?v=0igxavtB8Gw
---
https://www.youtube.com/watch?v=zsgFlNmgyGc
---
https://www.youtube.com/watch?v=oN-U-popCmE
---
https://www.youtube.com/watch?v=NneKOqxslUs