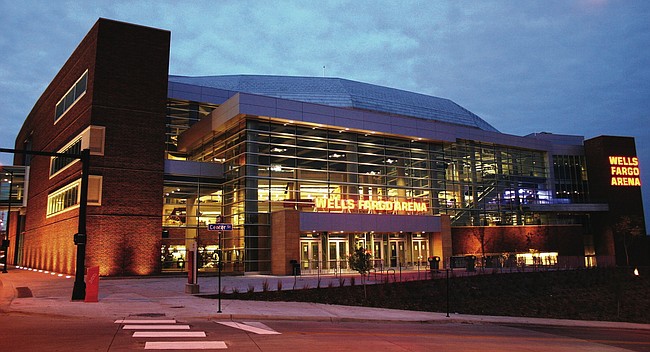 Heading to Des Moines to watch the Kansas University men's basketball team play in the first round of this year's NCAA National Championship Tournament?
Here are a few things to know about getting there and some ideas for what to do once you're there.
The game(s)
South Regional Conference No. 1 seed KU tips off against No. 16 Austin Peay (pronounced pea) State University at approximately 3 p.m. Thursday in Des Moines, Iowa. The game will be televised on TNT.
Never heard of that team? Austin Peay, home to about 10,000 students, is located in Clarksville, Tenn. It's named after Clarksville native and former Tennessee Gov. Austin Peay, and the school's mascot is the Governors.
Find complete coverage of Thursday's matchup at kusports.com.
If KU wins, it will play again on Saturday.
The venue
Wells Fargo Arena at the Iowa Events Center, 730 Third St. in Des Moines.
Tickets
There are no tickets available to the public through KU, KU Athletics spokesman Jim Marchiony said. He said the university got 350 tickets, with the possibility of securing 100 more, but that those are "spoken for" by the team, their families and donors.
Fans may find tickets through secondary market ticket retailers' websites.
Open practices
Pre-tourney open practices run from noon to 7:15 p.m. Wednesday at Wells Fargo Arena and are free and open to the public. KU's 40-minute open practice is scheduled for 2:15 p.m.
Pregame party and pep rally
The KU Alumni Association plans a pre-game party for 9:30 a.m. Thursday in meeting rooms 313-318 of the Iowa Events Center. A pep rally will follow at 11:45 a.m.
Official watch party
A KU Alumni watch party in Des Moines is planned for 3 p.m. Thursday at Trophy's Sports Bar and Grill, 2701 Douglas Ave. To find other alumni watch parties around the country, visit kualumni.org.
The drive
Des Moines is about three and a half hours from Lawrence, by way of Interstate 35, according to Google Maps.
The forecast
Expect Thursday to be sunny and breezy with a high of 51 degrees and a low of 33 degrees, according to the National Weather Service. Friday should be partly sunny. There's a 40 percent chance for rain Saturday.
The city
Besides watching the games, here are a few other things to know about or to do in downtown Des Moines:
• Des Moines' Friendly Sons of St. Patrick St. Patrick's Day Parade will be at noon Friday, downtown.
• The historic East Village district, located downtown near the Iowa Capitol building, is home to historic buildings, boutique stores, restaurants and nightlife.
• The Pappajohn Sculpture Park, 1330 Grand Ave., features 4.4 acres of outdoor contemporary artwork and is open from sunrise to midnight.
• The Greater Des Moines Botanical Garden, 909 Robert D. Ray Drive, is open 10 a.m. to 5 p.m. daily.
• Des Moines also has a bike-sharing system, with "BCycle" stations around downtown (including one about five blocks from the arena). A 24-hour pass is $6. Find more information at desmoines.bcycle.com.
• The Greater Des Moines Convention and Visitors Bureau website is catchdesmoines.com.
Have a tip or story idea?
---
More stories