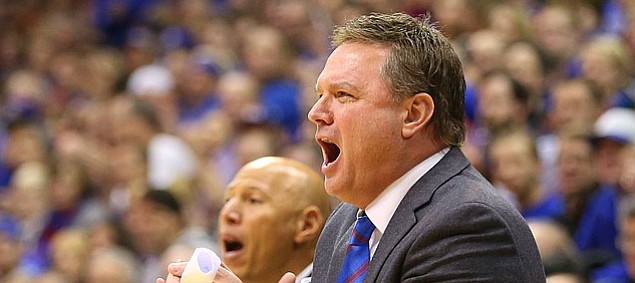 Kansas University basketball coach Bill Self, who directed his Jayhawks to a 12th-straight Big 12 title and 27-4 regular-season record, on Tuesday was named national coach of the year by USA Today.
"This is likely Self's best coaching job yet, despite all those other league titles and the team that won it all in 2008," writes Nicole Auerbach of USA Today. "He has had to poke and prod and figure out lineups. He's found a winning formula even as he's limited minutes for highly touted freshmen Cheick Diallo and Carlton Bragg.
"Self, who edged Xavier's Chris Mack, Indiana's Tom Crean, Oregon's Dana Altman and Miami's Jim Larranaga, has balanced it all and built a title contender in the process, the most complete team in the country heading into the NCAA Tournament. It's not unusual that a Self-led team is peaking in March, but it is impressive that this particular one is playing at this high a level. For that, this honor goes to Self," Auerbach writes.
Of this year's team, Self said Monday: "I'm proud of the fact that they seem to be very unselfish and care more about their teammates than they appear to care about themselves. You know, a lot of clichés that go along with that. But I do believe that holds true with this team."
Bleacher Report on Sunday named Self its national coach of the year. He was named AP Big 12 coach of the year on Monday. This marks the fifth season Self has been named national coach of the year by multiple outlets. His Jayhawks open the Big 12 tournament with a quarterfinal match against either Kansas State or Oklahoma State at 1:30 p.m., Thursday, in Sprint Center.
Mason, Ellis honored: KU senior Perry Ellis and junior Frank Mason III were named to the 2015-16 U.S. Basketball Writers Association (USBWA) All-District VI Team, the USBWA announced Tuesday.
The All-District VI Team is made up of 10 players selected via voting from the USBWA membership. District VI consists of schools from Kansas, Iowa, Missouri, Oklahoma, Nebraska, North Dakota and South Dakota.
KU's Self was named District VI coach of the year. Player of the year was Oklahoma's Buddy Hield. The all-district team members: Mason, Ellis, Hield, Ron Baker, Fred Van Vleet, Wichita State; Isaiah Cousins, OU; Peter Jok, Jarrod Uthoff, Iowa; Monte Morris, Georges Niang, Iowa State.
Brown to stay at SMU: SMU coach Larry Brown, 75, who has one year remaining on his original five-year contract, plans to coach longer than that, he tells the Dallas Morning News. Brown has led SMU to a 94-39 record through four seasons. His squad went 25-5 this season but is ineligible for postseason play because of NCAA sanctions.
"I love what I do and I love where I'm at and I want to see it continue to get better," former KU coach Brown told the Morning News. "I didn't think about any other alternative but to continue to be a part of the program and build on everything that's been accomplished and try to accomplish more. I think we're going to get all this stuff behind us and continue to get better, and I want to be a part of that.
"I said I'd stay as long as I felt we were making a difference. I've had four wonderful years here. I don't want to see this situation end. If they want me, I'll stay as long as they want."
Former KU assistant Tim Jankovich is coach in waiting at SMU and will take over when Brown retires.
We've got everything in place with Tim. All I care about is watching SMU grow. It would be nice to be a part of that," Brown told the Morning News.
WSU an 8 seed?: ESPN's latest Joe Lunardi Bracketology has No. 1 overall seed KU playing the winner of a play-in game between Austin Peay and Texas Southern in a first-round NCAA Tournament Midwest Regional game a week from Thursday in Des Moines.
Lunardi has the Jayhawks projected to play either Wichita State or Butler in the second round. In Lunardi's projections, KU could meet either Duke or Iowa in the Sweet 16 and Xavier or Indiana in the Elite Eight.
A KU-Wichita State matchup in Des Moines would be interesting in that WSU would figure to have as many, if not more, fans in the stands than KU. Also, WSU plays Drake in Des Moines every season in Missouri Valley country, meaning the projected No. 8 seed Shockers could actually have an advantage in some ways over a 1-seed.
Sporting News points out that even though some have the Shockers on the NCAA bubble at 24-8 overall, the fact the team is ranked No. 11 nationally by Kenpom.com assures WSU an NCAA bid.
Travis Ford on way out?: The Tulsa World writes that OSU coaching legend Eddie Sutton would support the hiring of broadcaster/former OSU guard Doug Gottlieb as head coach if the Cowboys, as expected, buy out the final three years of coach Travis Ford's 10-year contract.
"Most players who are any good, and if they've played in a good coaching situation, they can coach," Eddie Sutton told the Tulsa World. "I would have no problem in supporting (Doug Gottlieb). I think Sean (Sutton, former OSU coach) would feel the same way.
"Doug is smart. I think he would be a great recruiter. If he's smart enough to get good assistant coaches — guys who (are) similar to the way he feels — I think he would be all right."
The World has suggested some names. "So will it be Virginia Tech's Buzz Williams? Wichita State's Gregg Marshall? Stephen F. Austin's Brad Underwood? Houston's Kelvin Sampson? (Take a breath, Cowboy fans, his Cougars are currently 22-8 and in second place in the American Athletic Conference). Or maybe Louisville's Rick Pitino? Or even CBS chatterbox and erstwhile Sutton point guard Doug Gottlieb? (Gottlieb, who has never coached, seems to be the fan favorite.)
Or why not (Eddie) Sutton himself? He missed Friday's game, but even at 80, he frequently makes it to Stillwater. And on days he can't, couldn't he coach by Skype or FaceTime?" writes John E. Hoover.