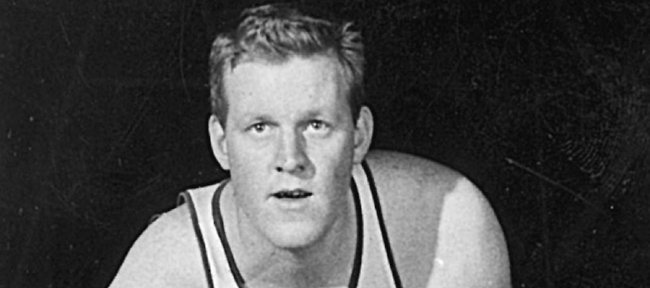 Kansas University men's basketball legend Clyde Lovellette died Wednesday night in North Manchester, Ind., his daughter, Cindy, informed KU officials.
Lovellette, the fourth-leading scorer and 11th-leading rebounder in KU history who had been battling cancer, was 86.
The 6-foot-9 two-time consensus first-team All-America center scored 33 points and grabbed 17 rebounds to lead KU to an 80-63 win over St. John's in the 1952 NCAA championship game. In the process he set a then-NCAA Tournament scoring record and earned most outstanding performer honors.
Also in 1952, Lovellette and six Jayhawk teammates helped lead the United States to the gold medal at the Olympics in Helsinki, Finland. Kansas coach Phog Allen was an assistant coach on the team.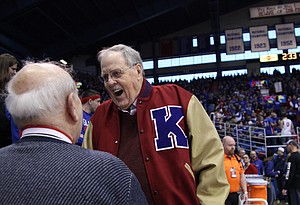 "Clyde's passing is a big loss for anyone who has ever supported Kansas Athletics," KU coach Bill Self said Wednesday. "He was a great player, a national champion and Olympic gold medalist. He was a beloved teammate and a great ambassador for his alma mater. Our thoughts and prayers are with his family."
Lovellette was elected to the Naismith Basketball Hall of Fame in May 1988 and the College Basketball Hall of Fame in 2012. His KU jersey was retired on Feb. 15, 1992, in a ceremony honoring the 1952 NCAA title team.
A native of Terre Haute, Ind., Lovellette became the fourth Jayhawk to be named a consensus first-team All-American and was also named All-Big Seven in 1951 and 1952.
His 1,979 points rank fourth all-time at KU. His 813 rebounds rank 11th. In 1952, Lovellette became the only player in NCAA history to lead the country in scoring (28.4) and play on the NCAA title team.
Following his career at KU, Lovellette played one year of AAU ball, then embarked on a 12-year NBA career with stops at Minneapolis, Cincinnati, St. Louis and Boston. He retired from basketball in 1964. Lovellette was a four-time NBA All-Star and won three NBA titles — in 1954, 1963 and 1964.
Lovellette also is a member of the Indiana Basketball Hall of Fame. The Indianapolis Star spoke with Lovellette in January. He revealed that in the previous year he'd fallen ill with lymphoma, then contracted stomach cancer. In December of 2015 he fell and broke his neck.
At his induction ceremony in 2012 in Kansas City, Lovellette said: "There are too many people to thank for being enshrined in the Hall of Fame. It's always an honor to be inducted to a Hall of Fame. It's always great to be represented in basketball. That's been my life ever since I could bounce the ball. Playing for a great coach like Phog Allen and being with a group of guys like Bill Lienhard, Bill Hougland, and Bob Kenney, those are the people that really make the team.
"Without a staff around you, I wouldn't be here. I don't believe one man can win any ballgames. They can have a big impact, but the other four men that are with him, that's where you develop team play, camaraderie and the real togetherness to win a ballgame."
Of his game, Clyde said: "I started out with a good hook and then I had a good one-handed shot. The hook shot has sort of gone away because not many people play with their back to the basket anymore. They're big enough and moving quicker. They're out there in front where they can see the basket. I shot my shot with my back to the basket, so I couldn't see the basket. You had to have that touch and distance. It just came natural."
Lovellette was proud of his KU years.
"I think anybody who ever played at Kansas is recognized," Lovellette said. "It's a great tradition at KU. The people take their basketball to heart. They know the players. They know the old players because their grandpa told them, or uncles or aunts. It's a family affair at Kansas."
Lovellette will be forever remembered for his 33-point effort off 12-of-25 shooting in the title game vs. St. John's.
"Leaving everybody else open and collapsing on Clyde lasted about a half," teammate Lienhard told the Journal-World in 2010. "They opened it up, and Clyde got a bunch of points."
Lovellette was named the Most Outstanding Player of the tourney. He scored 141 points in the four games. Only TCU, losing 68-64 in the first round in Kansas City, came close to the Jayhawks, who slaughtered St. Louis and Santa Clara by identical 74-55 scores.
Lovellette, who returned to Lawrence in 2008 for the 110 Years of KU basketball reunion, once was asked by the J-W which games meant more: playing Missouri or Kansas State.
"Both. I don't know if I hated them (Tigers) but it was a tradition that you did hate them. You'd get on the court and just play," he said.
Teammate Jerry Waugh told a humorous story about Lovellette in December on Bill Self's weekly "Hawk Talk" radio show. Waugh recalled he and Lovellette appeared on a radio quiz show, "Break the Bank," on a trip to Boston to play Holy Cross in 1949.
"We won $100 on the show. I gave my half of the $100 to my teammates and Clyde kept his," Waugh said with a laugh. "When Doc (Allen) found out about it he made Clyde share with the rest of the guys. That's when Doc said, 'The Big Turkey gets all the grain.' That's the story about Clyde (that he gets teased about)."
On a serious note, Waugh said: "Clyde's a good guy, a friend and friendly person and a lot of fun to be around. He was growing up as a young man."
As former Journal-World managing editor Bill Mayer pointed out in a 1999 column: "Phog's 'Big Turkey' label for Clyde stuck."