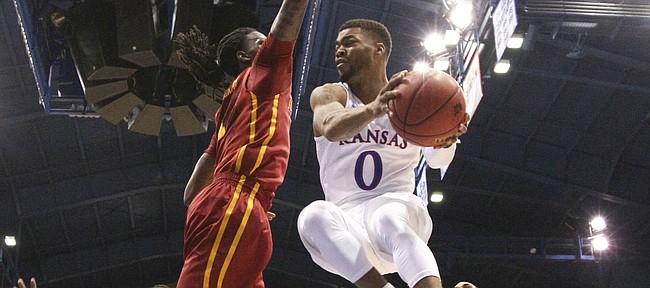 Riding an 11-game winning streak, the Kansas basketball team enters the postseason as the No. 1-ranked team in the nation.
As expected, the Jayhawks (27-4) retained their spot atop the latest AP Top 25 Poll, released Monday afternoon. KU received 63 of the possible 65 first-place votes, with No. 2 Michigan State (26-5) snagging the other two.
There was no change in the top six spots from last week in the latest rankings: No. 1 KU, No. 2 MSU, No. 3 Villanova (27-4), No. 4 Virginia (24-6), No. 5 Xavier (26-4) and No. 6 Oklahoma (24-6).
Once again, four other Big 12 teams joined Kansas and OU in the top 25: No. 9 West Virginia (24-7), No. 21 Iowa State (21-10), No. 22 Baylor (21-10) and No. 23 Texas (20-11).
Texas Tech (19-11) received one vote.
Kansas next plays at the Big 12 Tournament on Thursday, in Kansas City, Mo. — against either Kansas State or Oklahoma State.
KU has a 38-10 all-time record at the Big 12 tourney, and the Jayhawks are 24-6 under head coach Bill Self.
AP TOP 25 (March 7, 2016)
No. 1: Kansas
No. 2: Michigan State
No. 3: Villanova
No. 4: Virginia
No. 5: Xavier
No. 6: Oklahoma
No. 7: North Carolina
No. 8: Oregon
No. 9: West Virginia
No. 10: Indiana
No. 11: Miami (FL)
No. 12: Utah
No. 13: Purdue
No. 14: Louisville
No. 15: Arizona
No. 16: Kentucky
No. 17: Texas A&M;
No. 18: Maryland
No. 19: Duke
No. 20: Iowa
No. 21: Iowa State
No. 22: Baylor
No. 23: Texas
No. 24: Cal
No. 25: SMU