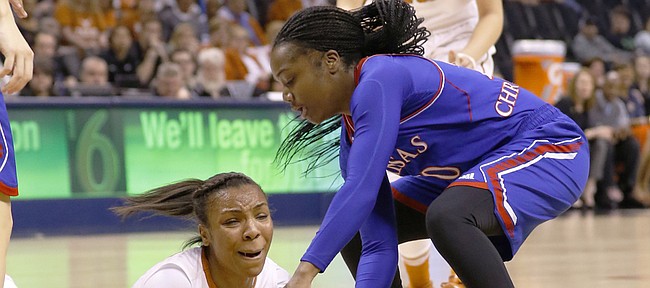 Oklahoma City — Kansas University's women's basketball season ended with a 66-50 loss to sixth-ranked Texas in the Big 12 tournament quarterfinals Saturday night in Chesapeake Energy Arena.
The loss came one night after KU defeated TCU to end its 20-game losing streak. The Jayhawks finished 6-25.
Document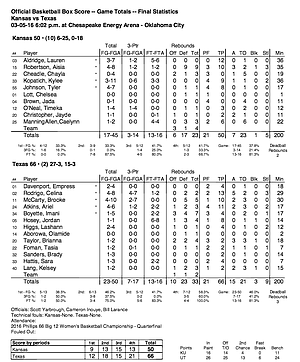 "I would say that the last three weeks we've gotten a lot better," KU coach Brandon Schneider said, "and it just hasn't culminated in some wins. We played Oklahoma at our place really tight, ended up being a six-point ballgame. Missed three free throws at TCU with a chance to win that ballgame. As I did last night, I just credit our players for continuing to work so hard, and I just think we're a team that was, obviously … we're the youngest team in the country. But we continue to get a lot better, and we were able to see some of the fruits of our labor here, you know, at the conference tournament."
Celina Rodrigo scored 13 points to lead Texas. Ariel Atkins scored 11 points, and Brooke McCarty added 10 for the Longhorns (27-3), who were coming off a loss to Baylor in the regular-season finale that cost them a share of the conference regular-season title.
"Our players and staff are extremely proud of the year we've had," Texas coach Karen Aston said. "I think they understand how to sort of push the reset button in tournament play. So it's sort of like — it's over. Whatever we did, it's over, whether it was good, bad or ugly, it's over."
The Jayhawks stayed close for much of Saturday's game. Lauren Aldridge scored 12 points, and Aisia Robertson added 10 points and nine rebounds for Kansas.
Schneider said the improved play the past two games gave him hope.
"My enthusiasm for what I think we can do at the University of Kansas with our women's basketball program has never wavered," Schneider said. "We played with a roster that we inherited, and we played extremely tough all year long. And I think we have a really bright future."
The Longhorns advanced to play West Virginia in the semifinals today.
It was second-seeded Texas' eighth consecutive win over the Jayhawks.
Texas was sluggish early and led just 12-9 after a quarter. The Longhorns shot just 5-for-13 in the opening 10 minutes.
Kansas hung tough through much of the second quarter and trailed just 24-22 before the Longhorns closed the half with a 6-0 run to take a 30-22 advantage.
Texas led 45-37 after three quarters, then opened the fourth quarter with a three-pointer by McCarty, a steal and layup by Lashann Higgs and a pair of free throws by Atkins to go up 52-37. The Longhorns made seven of 12 shots in the final period to put the game out of reach.