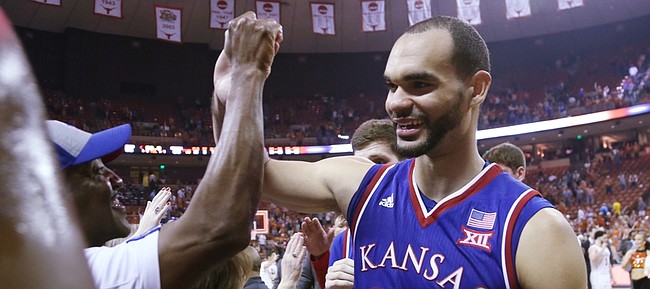 For most ranked college basketball teams the question elicits an easy response: Does it do a better job of scoring or keeping teams from scoring?
It's not such an easy answer for Kansas University, riding a 10-game winning streak with a 26-4 overall record and a 14-3 Big 12 mark. And that's a good thing.
Six weeks ago, Kansas had a much tougher time preventing scoring than scoring. Then Landen Lucas, averaging 10 rebounds and 2.1 blocks in the past seven games, emerged as a confident defensive force. The entire team became more alert in lending help to beaten teammates. Now KU consistently plays stingy defense.
A more subtle improvement offensively, caused in part by better ball movement and more attack-minded driving resulting in more uncontested shots inside and from the perimeter, makes the better-offensive-or -defensive study inconclusive.
Other than Lucas, every player Kansas sends to the floor to start games shoots a high three-point percentage, is armed with exceptional driving and passing skills and has an abundance of experience playing in big games.
That explains why scoring droughts don't enter the equation for the Jayhawks. Those belong to opponents, such as Texas, which went the first six-and-a-half minutes of Monday night's game without scoring a point and shooting 0 for 14 from the field.
The box score included a rare statistical oddity from Kansas. With the exception of shots taken when defenders are required to stand still and the shooter can take his sweet time, Kansas couldn't miss Monday night during its best all-around performance of the season, an 86-56 blasting of an NCAA tournament-bound team.
Typically, a team makes more than two-thirds of its free throws, about half of its two-point shots and slightly more than a third of its three-pointers. On this night, Kansas shot .688 from three, .618 from inside the three-point semi-circle and .458 from the free-throw line. Standing still didn't suit the Jayhawks on this night of sheer dominance. They prefer to move and move really fast, as Perry Ellis did when he blew by big, athletic center Prince Ibeh and smaller players on his way to 20 points. In attack mode from the center jump, Ellis made 9 of 11 shots and his only three-point attempt. His quick decisions enabled him to execute terrific passes, drives and jumpers.
Kansas played fast and smart basketball, nobody faster or smarter than point guard Frank Mason, who with the help of alert defenders who are consistently right there with the help, limited Isaiah Taylor, battling a foot injury, to five points on 1 of 10 shooting and one assist.
Kansas, the most complete basketball team in the nation, is humming in all areas. Not many others can say the same.
Kenpom.com's ranking of adjusted offensive and defensive efficiency measures points per 100 possessions and adjusts the number based on the strength of the opponent and the site of the game. It's as good a barometer as any to gauge the offensive/defensive balance of teams and verifies that Kansas is elite at both ends. (The value in advanced statistics lies in them validating or questioning what your eyes told you, not the other way around).
Kansas, ranked seventh in adjusted offensive efficiency and eighth in adjusted defensive efficiency, is the only school that ranks in the top 10 in both categories. Four others rank in the top 25 in both areas (national ranking/offensive efficiency/defensive efficiency): 2. Michigan State (2/19), 3. Villanova (12/6), 4. Virginia (10/11), 6. Oklahoma (15/12).
Among top 25 schools, No. 17 Duke (3/97), No. 19 Baylor (6/131), No. 21 Iowa State (4/107) and No. 24 SMU (14/72) have the wildest offensive/defensive disparities.
Outside the top 25, San Diego State ranks 226th in offensive efficiency, second in defensive. Valparaiso University ranks 128th in offense, fourth in defense.
Maybe the next Big 12 school to have an opening should coax highly regarded Valpo associate AD Homer Drew out of coaching retirement and Homer could steal son Bryce from Valpo, make him his defensive coordinator, steal son Scott from Baylor, make him his offensive coordinator, and make a (futile) run at Kansas' stranglehold on the Big 12 throne.