Austin, Texas — Texas coach Shaka Smart, even before suffering an 86-56 defeat at the hands of perennial Big 12 juggernaut Kansas, spoke highly of KU's winning 12 straight regular-season league titles.
"It's unheard of actually at this level," Smart began. "You look at a team like Gonzaga that's been so dominant in their league (West Coast Conference). You are talking about the Big 12, which the past few years has been the best league in the country RPI wise and has had 70 percent of its teams in the NCAA tournament."
Smart continued: "It's a terrific run they've been on. I think the credit goes first and foremost to coach (Bill) Self and his staff. They are the ones that are the constant over that 12-year period. They've had really good players over those 12 years. Those guys have bought into the staff's plan. They have an expectation they are not just going to win but do the things that go into winning."
Smart elaborated on those expectations: "Everyone wants to win, but are you willing to do all the little details and all those things that go into winning? Frank Mason does that. Perry Ellis does that. Once players move on that mindset is pervasive in the program."
Photo Gallery
Kansas basketball v. Texas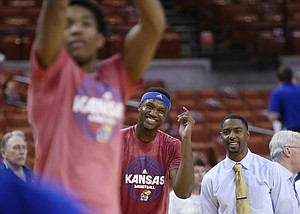 Images from Saturday's game between the Jayhawks and Longhorns at Frank Erwin Center in Austin, Texas.
Smart was asked if it'd be better for the league if KU was knocked off its throne.
"It'd be better for everybody else in the league," he said with a laugh. "Certainly it'd be better for the other nine schools if one of us could jump up in there and break that streak, but I don't think it's bad for the league at all.
"Kansas is one of the best programs in the country," Smart said, "so it's not like you are talking about someone who does not represent the league at the most elite of levels."
Smart on Perry Ellis: "I think he deserves way more attention nationally than he gets. I think Buddy Hield is the best player in the country. He's obviously the best player in the conference. I think Perry is as difficult a matchup as anybody in our league."
Texas home finale: UT seniors Demarcus Holland, Javan Felix, Cameron Ridley, Connor Lammert, Danny Newsome and Prince Ibeh were honored before the game as part of Senior Day.
"Our seniors have put a lot in this program, been through ups and downs," first-year UT coach Smart, who took over for Rick Barnes, said. "I'd say more ups than downs. They've faced their share of adversity and have I think grown from it."
Before the game he said he hoped Texas could, "create an experience this evening they can look back on the rest of their life with a lot of pride. It's what it's all about."
— See what people were saying about No. 1-ranked KU's Big Monday game at Texas during KUsports.com's live coverage.
https://www.youtube.com/watch?v=Y4rJ5N6_qG4
---
More news and notes from KU's dominant victory at Texas
---