Austin, Texas — Hours before his team sealed the championship outright with an 86-56 drubbing at Texas, Kansas University basketball coach Bill Self on the Big 12 teleconference was asked if KU's 12 straight titles reflects badly on the rest of the league.
"I do think it maybe takes away, but I think people in the know, know better," Self said. "We've had some really good teams that have been high seeds. You'd think if you are a 1, 2 or 3 seed you'd have a chance to win the league. We've been that most every year we've won the conference.
"I think it gives the appearance to people who don't know our league that the league must not be very good if one team has won or shared this many times," Self added. "Sometimes when you have something that's been won, people say, 'Kansas won it this year again.' A lot of times there's a tie and it takes away from the other program's attention being a champion as well. That's happened multiple times."
Romo in stands, hallway: Self visited with Dallas Cowboys quarterback Tony Romo in a hallway after the Jayhawks rolled on Big Monday.
Photo Gallery
Kansas basketball v. Texas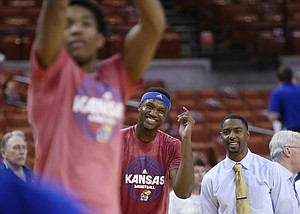 Images from Saturday's game between the Jayhawks and Longhorns at Frank Erwin Center in Austin, Texas.
Did he visit the team in the locker room?
"No," Self said with a smile. "He didn't come to watch Kansas. He came to watch Texas. It was good to see him. That was fun."
Romo sat with tight end Jason Witten in court-side seats along with former UT quarterback Colt McCoy.
No. 1 again: KU's basketball team, which was ranked No. 1 in the country in the Associated Press poll for two weeks in January, is the first school to return to the top for a second time during the 2015-16 season.
The Jayhawks on the last day of February received 63 of 65 first-place votes, runner-up Michigan State netting the other two. MSU was No. 1 for a month, Oklahoma and Villanova for three weeks, North Carolina and Kentucky two weeks.
The AP reports that the six schools to reach No. 1 is one off the record set in 1982-83.
KU, which also returned to No. 1 in the USA Today coaches poll Monday, has been No. 1 in 60 AP polls throughout history. That's fifth all time behind UCLA (134), Duke (127), Kentucky (115) and North Carolina (113). KU holds the longest active streak for consecutive weeks ranked (140 in the AP; 147 in USA Today).
Last week's No. 1, Villanova, drops to No. 3, followed by Virginia, Xavier, OU, Miami, UNC, Oregon, West Virginia, Louisville, Indiana, Utah, Maryland, Purdue, Iowa, Duke, Arizona, Baylor, Texas A&M, Iowa State, Kentucky, Texas, SMU and Cal.
— See what people were saying about No. 1-ranked KU's Big Monday game at Texas during KUsports.com's live coverage.
https://www.youtube.com/watch?v=Y4rJ5N6_qG4
---
More news and notes from KU's dominant victory at Texas
---