Austin, Texas — Jamari Traylor accepted a pass from Devonté Graham and put down a thunderous alley-oop dunk midway through the second half of Monday's 86-56 rout of Texas in Frank Erwin Center.
"It was the best dunk we've had this year. I don't know about overall. He put his elbow on the rim," Kansas coach Bill Self said of the violent flush. "He was up there. That was a big-time play. It was a perfect pass, just big time."
Traylor, who suffered a cut on his right elbow that needed four stitches to close in the locker room after the contest, was mobbed by his teammates after the slam.
"The bench was going crazy. There were so many people talking to me at one time it was hard to comprehend," Traylor said. "It's good to get all those guys pumped up.
Photo Gallery
Kansas basketball v. Texas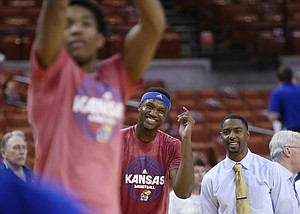 Images from Saturday's game between the Jayhawks and Longhorns at Frank Erwin Center in Austin, Texas.
"I have to give all the credit to Devonté for throwing it to me," Traylor added. "I just went up to get it and that's it. We practice it every day. We break the press down and end it just the way we did it."
The dunk over Eric Davis gave KU a 67-36 lead.
"I saw him go up. I guess he got boosted up a little bit (by Eric Davis)," Graham said with a smile. "He (Traylor) can't get up that high. It was a great finish. We were just being aggressive and taking what the defense gave us. It was a nice play."
— See what people were saying about No. 1-ranked KU's Big Monday game at Texas during KUsports.com's live coverage.
https://www.youtube.com/watch?v=Y4rJ5N6_qG4
---
More news and notes from KU's dominant victory at Texas
---