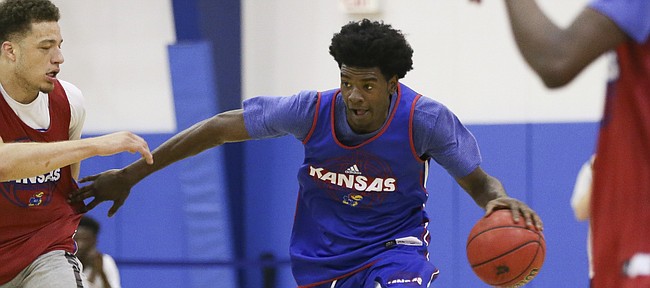 Kansas University's basketball players can work up quite a sweat during the two hours of official practice time per week that's allotted by the NCAA while summer school is in session.
"I've had numerous people come in here and watch our workouts. They are surprised we would go this hard in the summer," KU coach Bill Self said Wednesday during the Big 12 summer coaches teleconference.
"I'm not saying we practice harder than anybody else, but when you allow your guys to work with coaches, there is a work ethic and culture that's developed. It's a serious time where guys know, 'This is a time we have to get better.' I also think there's a great academic component. You can see and touch your guys multiple times a week where it's basically they need to show up.
"I think it's a very good rule we have access to our kids, even though it's limited to two hours a week," he added. "It does allow us to see and touch 'em depending on how you set it up two to three days a week."
All of KU's players have been on campus in June except Svi Mykhailiuk, who is playing for Ukraine in the Under 20 world championships. Freshmen Josh Jackson, Udoka Azubuike and Mitch Lightfoot are in town, along with transfer Evan Maxwell.
Self was asked how hype surrounding the arrival of top-ranked prospect Jackson compares to, say, fellow No. 1-rated prospect Andrew Wiggins during Wiggins' one year in Lawrence.
"I thought Andrew was pretty prepared coming in here. I feel the same about Josh," Self said. "One thing about both those guys, they don't like the attention. I don't feel like there's anything from them right now that they have to basically live up to all the expectations and all these things.
"The feeling I get from Josh is he just wants to be a college kid. Of course, we know he won't be a college kid for very long. Certainly he wants us in every way we possibly can to protect and to shield him from all the talk that potentially could go on.
"He's not caught up in it. I know he's a social-media guy. I don't think it's something he needs to read every day. Right now in his brief time here, in the month he's been here, he's been like, 'Coach, I just want to fit in. I just want to be one (of the guys) just like everyone else.' We talk about how everybody watches every move. All media requests come through us. Some things we try to simplify for him. I don't think it will be a huge deal (handling the hype). I think it'll be something we get into a lot as we progress closer to the season. Right now he just wants to be a kid and be one of the team and certainly isn't caught up on what everybody is talking about."
Draft talk: Self was asked about the NBA Draft, in which KU senior Perry Ellis and juniors Wayne Selden Jr. and Brannen Greene were not selected.
"There's so much false hope with the draft, not just because Wayne and Perry didn't get drafted," Self said. "I don't think that affects their chances of making an NBA roster as much as the appearance is. The reality is, weren't there 17 international players drafted that did not participate in college basketball in the States (and 26 international players overall taken in two rounds)? Of those 17, I bet at least seven or nine, 10 were guys nobody had on the board at all going into the draft."
Self continued: "I wish there was a way, and I don't know if this is possible … a kid like even Brannen (Greene) or Wayne that go through the draft, if they are able to keep their amateur status, go back to school. That's not the case with our guys. They obviously signed with agents (as non seniors and thus were not eligible to return). The whole thing is maybe there could be an extra protection layer there.
"I do believe the rule change is positive (to allow players to go to Combine and still pull name out of draft) to get more information. There were a lot of guys that did not go to the Combine that stayed in the draft that did not get drafted."
Self said "maybe an incentive to stay in school that there's some kind of trust fund set up for them if they stay in school and complete it and are drafted. There are a lot of things that have been thrown out there. It's not perfect. I don't have the answer. I don't know how important it is to the NBA to come up with the answer. Even though they have been very cooperative with the NCAA. We've made great strides. I think to make some major, major changes that's going to have to be a serious process and going to take a lot of time to figure out."
Malik to decide Friday?: Former Mississippi State guard Malik Newman, who visited KU on Tuesday and Wednesday, likely will choose a transfer destination Friday, ESPN.com's Jeff Goodman reports. He has a final five of KU, North Carolina State, Western Kentucky, Miami and Oregon.
"(He) Just visited Kansas — they loved him out of high school, would not be shocked if ends up there," Goodman wrote on Twitter.
D-League team hires Walters: Former KU guard Rex Walters has been named head coach of the NBADL's Grand Rapids (Mich.) Drive, an affiliate of the Detroit Pistons.
Per team policy, terms of the agreement were not disclosed.
"Rex Walters brings a wealth of basketball knowledge and experience and has a passion for developing young players. He's spent some time with us here and already has a good understanding of how we operate," Pistons coach Stan Van Gundy said. Walters spent the last eight seasons as head coach at the University of San Francisco.