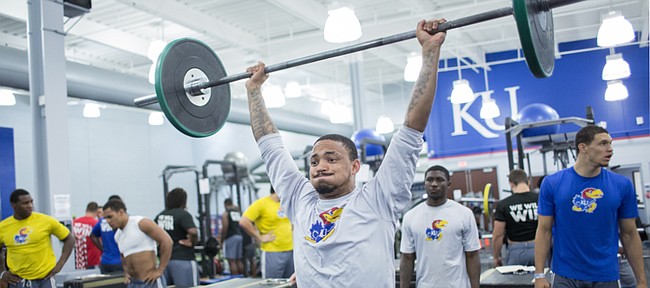 Long, lean and fast, Rodriguez Coleman had the physical tools to develop into a legitimate Big 12 wide receiver, but couldn't follow the team rules and earned a one-way ticket out of the Kansas University football program.
Coleman left the No. 1 jersey behind, and it has been filled by an even faster, more talented pass-catcher.
"Coach (David) Beaty told me what numbers he had available, and I wanted that 1," junior LaQuvionte Gonzalez said. "I knew the quarterback (Montell Cozart) was 2, so go hit 'em with that 1-2 punch."
No. 1's nicknames make for an explosive 1-2 punch as well.
Photo Gallery
KU football wide receiver LaQuvionte Gonzalez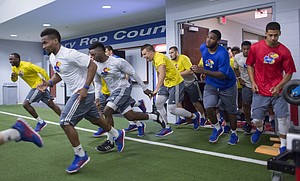 Kansas football wide receiver LaQuvionte Gonzalez joined teammates in a morning workout Friday, June 24, 2016.
"A lot of people have called me Speedy Gonzalez," he said. "I watched that cartoon (spelled Speedy Gonzales) when I was little. But my high school coach called me 'The Streakin' Puerto Rican.' I like that."
His high school coach, Joey McGuire of Cedar Hill in the Dallas Metroplex, and Beaty are, according to Gonzalez, "the same person. I really don't even know where I would be if it wasn't for those guys. I'm just thankful I've got those guys in my life."
Gonzalez followed Beaty from Texas A&M; to Kansas as a transfer, practiced with his new teammates last season and will make his Kansas debut Sept. 3 in Memorial Stadium vs. Rhode Island.
As a freshman target for Heisman Trophy winner Johnny Manziel, Gonzalez played in all 13 games, caught 21 passes and returned punts and kicks, including one for 40 yards vs. mighty Alabama. He appeared in just eight games as a sophomore and found a new home shortly after Beaty did.
"I follow him wherever he goes," Gonzalez said. "I love that guy. I love coach Beaty. I love that guy. He's tough on me. He's like a father figure to me. I need that."
Gonzalez said he is looking forward to returning punts and kicks for Kansas: "I'll take it to the crib."
Speedy Gonzalez/The Streakin' Puerto Rican is a stylish talker, tattoo-wearer and runner, but it's his substance that led Kansas strength-and-conditioning coach Je'Ney Jackson to select him as "Workout Warrior of the Week."
"Since he's gotten here, he's been really good in workouts," Jackson said. "He knows this part of it will help him get his game to the next level. He runs hard. He lifts hard. He's a guy that it could be a super-hard workout, and I'm taking him through it, and then I get distracted, and I want to move onto something else, and he's like, 'No, coach, we've got another set left.' That's very unusual for a guy who's getting his butt kicked. Very unusual."
The Program, a military-style training used by athletic teams that focuses on leadership and team-building, paid the Kansas football team a two-day visit recently.
"At the end of it, they give someone a T-shirt who earns it, busting their butt, doing everything they're supposed to do, but more importantly, they're a good teammate, helping their teammates through it," Jackson said. "Quv won the shirt. and it's a big deal to win the shirt. For him to stick out like that when there are 108 other guys, that is a big deal."
Jackson cited an example of No. 1 putting others first during rigorous training.
"We were on the hill the other day, and I was giving it to some guys, and one of our offensive linemen was struggling," Jackson said. "Quv was the first person over there to help that guy out. The first person. I'm so proud of him, so proud of where he's at because he wasn't like that when he first got here. He worked hard, but he wasn't going to help his teammates out.
"His development has been awesome to see. When your most talented guy works the hardest, the rest of the guys can't help but do it."
Jackson called Gonzalez "unbelievably talented" and elaborated.
"He's really, really fast," Jackson said. "He's fast, but his quickness is what really sets him apart. His change of direction and acceleration out of a cut is like a Ferrari, zero to 60 in two seconds. He's different."
Gonzalez said his 4.38-second 40-yard dash time heading into spring football was second only to his roommate, sophomore running back Taylor Martin.
"We call each other the 4.3 boys," Gonzalez said.
Runner of speedy routes and quick to lend a helping hand to teammates, Gonzalez is on track to become one of the brightest lights for the Jayhawks in 2016.