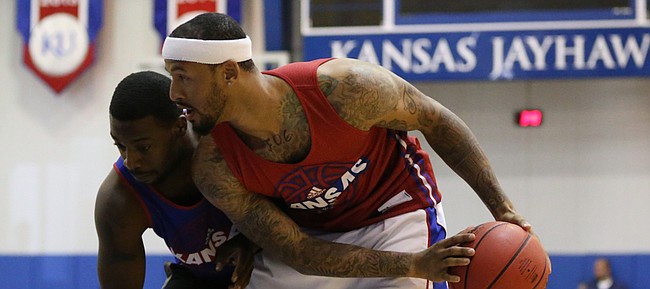 Former Kansas University small forward Travis Releford has been on the go since turning professional after the 2012-13 season.
"Being home all my life helped me with being away," the 6-foot-6 guard said recently, catching his breath in Lawrence after playing in Canada, Finland, Israel, Belgium and Idaho in the past three seasons.
"I enjoy it, grew up here (Kansas City area), played here five years. Being away is good for me. I can see the world. I've been to the Old City (Jerusalem). I got to see where Jesus walked the cross. I got to float in the water in the Dead Sea. Everything about Israel is really nice," added Releford, who averaged 16.5 ppg in helping Maccabi Kirvat Gat win the National League title in Israel two seasons ago.
"Playing in Israel was one of the most fun experiences I've had. Winning the championship over there made it a lot better. I could see myself going back there."
This past season, the 26-year-old Releford finished with the Niagara River Lions based in St. Catharines, Ontario.
"I actually played against Sherron in the playoffs," he said of former KU guard Sherron Collins. "His team (Windsor Express) beat us."
Releford's journeys are not uncommon for players who make a living outside the NBA.
"Waiting to hear the best offers … it's a waiting game right now," Releford said of next season. "Teams just call my agent. My agent reaches out to teams, and we go from there. It's good to have options. I think I'll have a few options to pick and choose where I want to go."
Releford proved he still had game in the second of two Bill Self campers games, scoring 24 points off 10-of-16 shooting against current and a few former KU players.
"I feel good," Releford said. "My first year I had a stress fracture. Other than that, I've been playing well. As long as my body holds up, I'll play, then I'm going to try to get into coaching."
Clinic: Former KU coach Larry Brown of SMU was featured speaker at a clinic for high school and college coaches Thursday in Frontenac.
"I love Kansas," Brown told the Pittsburg Morning Sun newspaper. "Anytime I can share all the things I've been taught, I am anxious to do that … I was fortunate to coach at KU for a while, and there are only around 2.9 million people in this state, so there are a lot of small towns. I've hopefully visited all of them at some point … It's great for me to come back here and see a lot of blue and red."
The camp, hosted by Jared Pile and Dr. Jill Saia Pile, goes to help fund Pittsburg-area athletic departments, which need help following budget cuts.
More on White transfer: Former KU and Nebraska forward Andrew White III said in a text to the Journal-World he has "no list (of possible schools) yet."
His decision to leave NU and become immediately eligible as a graduate transfer was obviously met with displeasure in Lincoln. Omaha World-Herald columnist Tom Shatel quotes ESPN's Jeff Goodman as saying there were 700 transfers this offseason.
Writes Shatel: "You can be mad if you're (NU coach) Tim Miles and Husker Nation. But you can't really be surprised by this, can you? When White came to NU, he was leaving a situation — and a much better situation at Kansas — for a new start. If a kid can transfer once, wouldn't you think he would be of mind to do it again?
"If you're dating someone who just left someone else, wouldn't you think they could leave you, too?
"Look, nobody forced Miles to take White. It looked like a brilliant coup, getting a shot-maker from Jayhawk land. But Miles, hired as a program-builder, got off to a slow start in recruiting. He relied a lot early in his tenure at NU on transfers — Terran Petteway and Walter Pitchford come to mind. It worked for an NCAA tournament bid in Year 2. In that sense, it was worth it.
"Coaches are going to take transfers. If you don't take them, somebody else will — and may beat you. Miles has relied more recently on high-school recruits, and that's a better way to build a program. When you play the transfer game, you gotta get lucky.
"Should White have made himself a free agent as soon as he came back from the NBA deadline? Should he have given Miles and NU more notice — done a favor for a coach and program that did him a solid two years ago? Yes.
"But here's the thing you learn real quick about transfers.
"It's all about them."