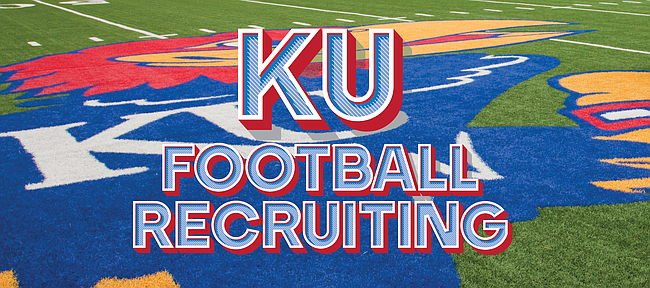 It did not take the Kansas University football program long to move on from recent de-commitments from a couple of Texas offensive linemen in the Class of 2017.
With Grant Polley and Jared Hocker recently backing out of pledges to join the Jayhawks, that opened the door for a Kansas kid to accept an offer from the KU coaching staff.
Joey Gilbertson, a 6-foot-4, 290-pound tackle from Wichita's Northwest High, on Monday announced via Twitter that he had orally committed to KU.
Gilbertson said his recent visit to campus for KU's Friday Night Lights camp helped seal the deal and he credited O-Line coach Zach Yenser and recruiting coordinator Kenny Perry for convincing him that KU was the right fit.
"He always tells me I am a defensive lineman playing offensive line," Gilbertson told JayhawkSlant.com's Jon Kirby of Yenser. "He said he likes how I fire off the ball and hit people. He loves my physicality."
Named to the Wichita Eagle's 2015 All-Metro squad, Gilbertson is merely the latest in a long line of Kansas prospects being pursued by the Jayhawks. When he was introduced as KU's new head coach back in December of 2014, David Beaty said recruiting the state would be a priority and although last year's scholarship class featured just one Kansan (Free State High safety Bryce Torneden), the Jayhawks have sent out offers and made runs at several Sunflower State players during Beaty's first two recruiting classes, coming close on more than a few of them.
"I hope that opens doors to KU," Gilbertson told Kirby about being the latest in-state athlete to pick Kansas. "I hope recruits realize it's not about winning now but also winning later."
While the 2017 class remains unfinished, it already is off to a promising start, with half of the commitments carrying three or more stars according to the Rivals.com ratings.
Gilbertson becomes the eighth member of KU's 2017 class to commit to the Jayhawks and he is the second Kansan to commit to the Jayhawks this offseason, joining Free State High linebacker Jay Dineen.
The Wichita Northwest lineman chose Kansas over interest from K-State, Louisville, Tulane and Tulsa.