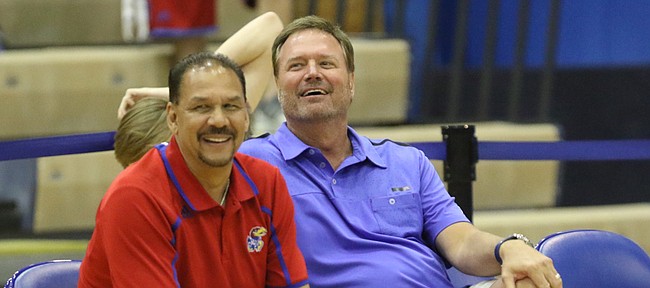 Fearless forecaster Bill Self isn't backing down from his pre-2016 NBA Finals prediction that the Cleveland Cavaliers will emerge as world champions.
"It's going to be interesting. I think the Cavs can win it. I do," said Kansas University coach Self, who is hosting his high school team camp this weekend in Allen Fieldhouse and Horejsi Center. Game Seven between the Cavs and Golden State tips at 7 p.m., today, in the Bay Area's Oracle Arena, where the Warriors went 39-2 during the regular season but have also lost twice in the postseason.
"You live by the three you die by the three. They obviously live by it far more than they have ever died by it," Self added of the deep-shooting Warriors who enter tonight as 5-point favorites. "It just seems like to me some of the shots they make are such hard shots. I think the Cavs are getting better shots. I actually believe Cleveland can do it. I'm not saying they will but I don't think this is a slam dunk at all. I think it's going to be the best game of the series so far."
Cleveland tonight tries to become the fourth team to win an NBA Finals Game Seven on the road (3-15) and the first of 33 squads to overcome a 3-1 deficit in the Finals. Cleveland has won three of the last four games vs. Golden State, outscoring the Warriors 111.0-99.0 while hitting 51.2 percent of its shots.
Draft talk: KU's Cheick Diallo will be selected No. 23 overall by the Boston Celtics in Thursday's NBA Draft, ESPN's Chad Ford predicted on Saturday. Draftexpress.com, which last updated its mock draft on Thursday, has Diallo being selected by the Detroit Pistons at No. 18 overall. Wayne Selden Jr., will be the 19th pick of the Pistons in the second round, while Perry Ellis and Brannen Greene will go undrafted, Draftexpress.com believes.
"I've actually text with all of them or talked to them (recently)," Self said. "B.G. (Greene) was in town last week. I had a chance to visit with him. Perry, Wayne on a pretty continual basis. It is a big week. It's not like with Joel (Embiid) and Wiggs (Andrew Wiggins). You knew they would go in the top five, both of em (Embiid third and Wiggins first). You are nervous for them, but I was more nervous for Tarik (Black) than I was for Jo and Wiggs and then Tarik ended up not being picked but ended up being in the perfect situation (and made Houston roster).
"Cheick is going to go in the first round. I'm totally confident about that. With Perry, Wayne and Brannen, I think they are going to get drafted. I do. I am more nervous about them getting drafted by the right team than I am them getting drafted.
"Sometimes you are better off not getting drafted. That was the case with Tarik. Tarik was able to place himself into a team that needed somebody like him. A lot of times when you get drafted you could be going to a team that already has 12 guaranteed salaries or roster spots and basically you are just playing just to play knowing you are probably going to get cut or be in the D League. I would love to have these guys be drafted by the right team. Who knows who that is? I think they'll all be on a roster next year," Self added.
More on Thornton: Former Duke guard Derryck Thornton's decision to pick USC over KU seemed somewhat surprising Friday, except for the fact the Los Angeles native did say the day he announced his transfer he wanted to play closer to home.
The L.A. Times points out USC "made the NCAA tournament last season for the first time since 2011 but lost six players in the off-season. Two, Julian Jacobs and Nikola Jovanovic, were starters who left for the draft, and a third, Katin Reinhardt, who started about half of USC's games, transferred to Marquette. Three role players and reserves, Darion Clark, Malik Martin and Malik Marquetti, also transferred."
Meanwhile, KU has been doing its usual job of reloading year after year under Self, who has led the program to 12 straight league titles.
ISU transfer: Iowa State has landed former Tennessee forward Ray Kasongo via transfer, the DesMoines Register reports. Kasongo, a 6-8, 245-pound junior-to-be, averaged 1.4 points and 1.5 rebounds in 22 games last season for the 15-19 Volunteers. Kasongo, who hails from Toronto, played one season at College of Southern Idaho.