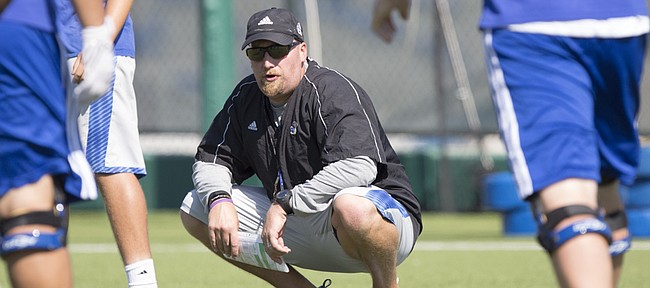 Coaching college football is hard enough without having to figure out how to be a father at the same time. But that is exactly the challenge that Kansas University offensive line coach Zach Yenser has faced during his two seasons at KU.
The father of two young boys, including one who was born at Lawrence Memorial Hospital on April 21, 2015, four months after he was hired by KU coach David Beaty, Yenser has worked hard to juggle the difficult dual role of rebuilding a football program and raising a family at the same time.
In many ways, there exists a strong correlation between the two. Like Kansas football, which after six dismal seasons is learning how to walk again, Yenser's sons, Graham (4) and Max (1) are developing every day and keeping their football-coaching father on his toes at home, too.
Although a good chunk of Yenser's year is spent more with KU's offensive linemen than his own family, the KU assistant said the example set by other coaches around him throughout his career helped him learn how to combine both of his passions.
"I've been incredibly fortunate to be around a bunch of guys who have shown me it is possible to be a coach and a dad," said Yenser, crediting Beaty as well as KU offensive coordinator Rob Likens for some of the lessons. "The last two head coaches I've worked for, with Sonny Dykes (at Cal and Louisiana Tech) and now Beaty, were phenomenal with that family-first mentality."
In fact, Yenser said one of the most enforced rules among the coaching staff had to do with family.
"We don't have many rules on staff," Yenser said. "But one we do have is take your kids to school every day."
Whether it's during the dog days of summer or in the middle of a game week, with preparation and practice dominating more than half of the day, that rule remains a point of emphasis and Beaty rarely deviates from it.
Earlier this month, with the Jayhawks kicking off their summer camp schedule at Memorial Stadium, Yenser approached Beaty and asked if he could start camp and then cut out quickly to take Graham to a sports camp of his own before returning to work. Beaty's answer?
"He told me, 'If you don't, you're fired,'" Yenser said.
The whole idea of putting an emphasis on family goes beyond making sure Beaty and his coaching staff get the time they need at home with their wives and children. It also serves as yet another opportunity to show the 100 or so members of the KU roster real-life examples of the husbands and fathers they're trying to shape.
"Beaty tells the whole team, 'You guys are helping us raise our kids. When you're around, they watch you guys,'" Yenser said. "They're helping coach Likens raise Cutter, they're helping Beaty raise his two girls and me and my boys, and they're helping us all raise coach (Kenny) Perry. We're still trying to get him raised up."
As has been the case with Yenser, the importance of family in college football came to Beaty through examples set by coaches for whom he previously worked. Rice coach David Bailiff, whose scary experience with premature twin boys inspired him to emphasize family more than he had earlier in his career, made a big impact on Beaty. And his own encounter with his then-8-year-old daughter, Averie, who, one night, was more than a little shy around her own father because he had been in the football complex more than the family's home, made an even bigger impact.
"I decided right then and there that if I ever became a head coach I was gonna make sure family came first," Beaty said. "It's a simple philosophy. You're not going to get that time back. So I make sure it's built in to what we do and I make sure our guys get the time they need with their families."
Another recent example of Beaty putting the philosophy into practice came a little more than a week ago, when first-year special teams coach Joe DeForest was going to skip his son-in-law's NCAA Regional baseball game with Oklahoma State because of a KU football camp. Beaty wouldn't allow it. Instead of demanding that DeForest stick around for camp, Beaty insisted that he fly to Clemson to watch his son-in-law play ball and put him on a plane.
Things worked out well for DeForest, who watched his son-in-law win the Regional and later a Super Regional to advance to the College World Series in Omaha.
"And he was about to miss it over a two-hour camp that we could get done without him," Beaty said.
It's moments like those that make Yenser and the rest of the KU coaching staff feel fortunate to be working for a coach who prioritizes time for fatherhood. Even with that, though, the demands of the job on a day-to-day basis can be intense and overwhelming and throw the whole cycle out of whack.
Yenser said the culture Beaty has created at KU helps prevent such slumps and added that he thought the working environment around Kansas football was one that made being a father seem like a privilege and not a burden.
"It can be done," Yenser said. "You can be successful in this business and still be the dad you want to be. You'll put in time for what's important to you. Bottom line."
Added Beaty: "I tell 'em all the time, your home team is the No. 1 team. That's just how we do it."